Fox & Friends' Doocy Defends Trump: 14th Amendment for Slaves, Not Immigrants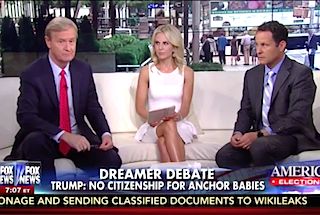 One day after Fox & Friends shared Donald Trump's latest campaign ad on Twitter, co-host Steve Doocy appeared to take the candidate's side in a debate he had with Bill O'Reilly last night over the role of the 14th Amendment in the fight over immigration policy.
As Trump told O'Reilly of the law that says children born to undocumented immigrants in the U.S. automatically become citizens, "Many lawyers are saying that's not the way it is in terms of this. They are saying it is not going to hold up in court."
After playing that clip, Doocy cited an argument from an unnamed attorney at the Justice Department who said that because the 14th Amendment was written specifically to give the descendants of slaves citizenship after the Civil War, it should not apply to the children of immigrants.
The host mentioned the 1898 Supreme Court case, United States v. Wong Kim Ark, in which the justices that a man born in the U.S. to Chinese citizens should be granted citizenship status due to the 14th Amendment. But at the same time, Doocy said that "many lawyers" believe that case was "wrongly decided," echoing Trump. "So I see what Mr. Trump was talking about there, but still, practically, what's going to happen?"
"How do you implement that?" Elisabeth Hasselbeck wondered aloud. "Just go knocking on doors and finding babies?"
"There's no way we can afford to kick out 11 million people," Brian Kilmeade added.
Watch video below, via Fox News:
[h/t Raw Story]
[Photo via screengrab]
— —
>> Follow Matt Wilstein (@TheMattWilstein) on Twitter
Have a tip we should know? tips@mediaite.com