Fox & Friends Hosts Scold 'Irresponsible' Harry Reid For Unsubstantiated Allegations Against Romney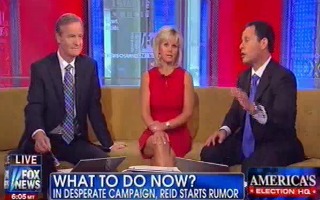 The hosts of Fox & Friends called Senate Majority Leader Harry Reid (D-NV) "irresponsible" on Wednesday after Reid told the Huffington Post that a Bain Capital investor had informed him that Republican presidential candidate Mitt Romney paid nothing in taxes for a decade. Reid also claimed that Mitt Romney's father, former Michigan Gov. George Romney, would be "embarrassed" by his son's conduct in this year's presidential campaign.

RELATED: Harry Reid's Bombshell Allegation: Bain Investor Told Him Romney 'Didn't Pay Any Taxes For 10 Years'
"In desperate campaign, Reid stats rumor," read the chyron as the Fox & Friends hosts related the allegation that Sen. Reid made against Romney. They also noted that Reid told reporters he was not certain if that story was accurate.
"Is that out of line for a Senator to not necessarily check the facts before you go off and bloviate and before you know it, it's a big story," said Gretchen Carlson. "And it's not true."
"Yes it is," replied Steve Doocy.
"He's accusing him of breaking the law and he should go to jail," Brian Kilmeade said. Kilmeade also chastised Reid for bringing up Romney's deceased father and speculating on how he would feel about his son today. "You've got to be kidding me," said Kilmeade. "How irresponsible is that?"
Doocy reminded his audience that Reid had said some "outrageous" things about Sen. John McCain in 2008 as well.
"So, he didn't pay his taxes. His dad should be embarrassed. But I'm not even sure if the premise of my conversation is correct? Totally irresponsible," Kilmeade concluded.
Watch the segment below via Fox News Channel:
> >Follow Noah Rothman (@Noah_C_Rothman) on Twitter
Have a tip we should know? [email protected]