Fox & Friends Tears Into Obama's 'Startling' Presser: 'Leader Of The Free World' Is A 'Spectator'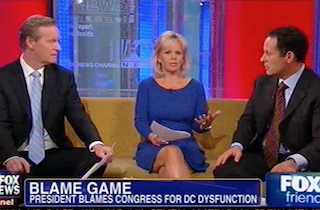 On Wednesday, Fox & Friends joined the ranks of those vastly unimpressed with President Obama's press conference earlier this week. Noting his dismal performance, in which he appeared to be a "spectator," the hosts criticized the president for continuing to blame Congress for his inability to get things done.
As Brian Kilmeade questioned whether the presser even had a point, Steve Doocy was quick to point out "the president did not look good." Citing a few columnists, who were less than kind about Obama, Doocy also pointed to the question posed at the presser by ABC's Jonathan Karl. Karl cited the various issues the Obama administration has been attempting to deal with and asked, "Do you still have the juice to get the rest of your agenda through this Congress?" Obama, in response, quipped that perhaps he should "just pack up and go home."
Doocy and Gretchen Carlson both underlined Obama pointing the finger at Congress and Republicans — helpfully offering a graphic of the president's "second term failures," which included gun control, global warming, budget/sequestration, and Obamacare.
As Carlson mentioned how Obama is facing opposition even from his own party when it comes to his health care law, Kilmeade pivoted to the president's handling of Syria, the "red line," Benghazi, and Boston. "The whole point of the press conference was, 'Let's wait to find out on everything,'" he contended. "And even closing Gitmo, he says, 'I'm going to focus on that.' Really? What are you going to do about it that you haven't been doing?"
The point about Gitmo was one Carlson found "startling." Closing the prison "was his first executive order," she said, and currently we have more important problems to tackle. Doocy then jumped in to sum up Obama's theme:
"His theme was, 'I could get stuff done, but Congress is so uncooperative.' It's interesting, he almost sounded like a spectator. He's the president of the United States, the leader of the free world. He looked like a spectator yesterday. 'I'd like to lead, but they just won't let us.'"
Though we hardly expected a rave review from this crew.
Take a look, via Fox News:

Have a tip we should know? tips@mediaite.com