Fox's Bob Beckel And Don Imus Share Their Alcohol/Drug Experiences, Give Advice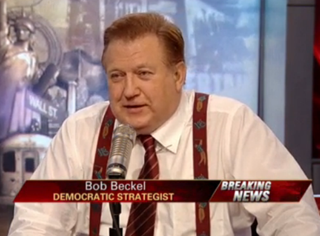 And now for today's most pleasant conversation about the most unpleasant topic imaginable. Yesterday morning, Don Imus welcomed Bob Beckel to the radio show and, while the conversation started off on politics, quickly strayed to their shared experiences with alcohol and drug abuse. With the holidays coming, Beckel noted that it was a particularly difficult time for people trying to sober up, while for veterans like he and Imus, the only challenge was dealing with how "obnoxious" drunk people are.
RELATED: Did Bob Beckel Bet Eric Bolling $10,000 That Obama Could Beat Either Romney Or Gingrich?
The conversation started off with Imus telling Beckel how much he loved The Five and chiding him for being uninterested in Dana Perino's day at the rodeo, "poor thing." "I did make fun, but just because you're interested in the horses and things and crap on the street, I didn't grow up where you grew up," Beckel offered by way of explanation. They then delved into the 2012 Republican field, where Beckel called Romney "one of the most overrated guys in the country" and joked that Imus had a "good record in picking people." Imus, indignant, replied that he had "saved [Bill Clinton]'s ass" and helped Chris Christie, providing Beckel with even more mockery material.
The conversation then turned to drinking, and became more grave. Asking a cohost whether he drank, Beckel made the seriously point that there were many people this holiday season who would have a hard time rehabilitating from alcohol abuse. "Hang close to the program," he advised, "don't go wandering into bars and Christmas parties." He added that he, now a veteran, had no problem seeing other people drinking, but "if somebody put a big line on the street, I may jitter a little." Imus replied with a story of going to a holiday party himself and being repulsed by the drunk people, to which Beckel replied, "I do interventions with alcoholics and they're all jerks! and I think, 'Was I like that?'" Imus added his experience– that he was 25 years sober of alcohol, 28 from cocaine– prompting Beckel to reply with an unexpected candor that he was very surprised at this, as "at the end, I needed seven grams a night and or about half a quart to get leveled out."
RELATED: Eric Bolling Can't Fathom Why The Five Went Three Whole Segments Without Trashing Obama
For a conversation on such a heavy subject, Beckel and Imus speak very lightheartedly about it, but with a candidness that makes it all the more interesting to listen to. The conversation eventually turned into Imus bashing Eric Bolling— prompting Beckel's defense– and ending with a moral from Imus' producer: "some people don't need alcohol to be gaping a-holes."
The segment via Fox Business below:

Have a tip we should know? tips@mediaite.com