Fox's Cavuto Cuts Off Explosive Battle With Democratic Congresswoman, Calls It 'Waste Of Time'
Fox's Cavuto Cuts Off Explosive Battle With Democratic Congresswoman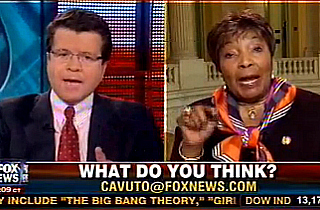 An intense battle between Fox's Neil Cavuto and Democratic Congresswoman Eddie Bernice Johnson ended Thursday afternoon after she told Cavuto to "shut up" and the host became frustrated, cutting off the segment and angrily labeling it a "total waste of time."
The two were duking it out over whether she and the Democrats have any plans to cut actual federal programs in order to compromise in avoiding the so-called "fiscal cliff." Cavuto had been repeatedly asking the Texas Democrat for specific programs she'd cut, as opposed to her focus solely on "revenue generation" through tax hikes.
At one point, Cavuto became clearly agitated by the congresswoman's lack of response: "No, you told me things you'd do to raise taxes. That's what you told me. Credits, allowances, that sort of stuff. That's what you told me."
"But you've got to talk about revenue generation," Rep. Johnson insisted.
"I know that, but it's 100-percent of what you're talking about, congresswoman," Cavuto shot back.
"It is not 100 percent of what I'm talking about," she responded before dropping the real awkward line: "If you'd shut up for just a second, I would try."
"You've got to tell me one thing you'd cut," Cavuto pressed. "I beg you congresswoman, one thing that you would say, 'I would cut this.' What would it be?"
After several seconds of pause, with Johnson clearly hesitating to answer, Cavuto interjected: "You don't know, do you?"
"Well, yes I do know," she replied, "but I have to have time to explain it. I can't tell you I'm going to walk in and cut this and cut that. First of all, it has to have some type of dialogue. We have not had that."
No less than a minute later, Rep. Johnson claimed that the Democrats have already identified what parts of the budget they would cut. Unconvinced and annoyed, Cavuto ended the interview: "Well, you haven't done that. You haven't done that. You haven't done that. But hope springs eternal, ma'am. And, congresswoman, I want to get you back, but this was a total waste of time," he said before cutting to commercial.
As Cavuto was attempted to dump the segment, Rep. Johnson tried to talk over him, saying "You might be consulting with the Republicans. But I am not, because we have not had the opportunity."
Watch the battle below, via Fox:
But wait, there's more. After returning from commercial break, Cavuto apologized to his viewers and to Rep. Johnson:
"Folks, I want to apologize to the Congresswoman Eddie Bernice Johnson and to you who might have been offended by my interrupting the congresswoman, not allowing a simple answer. But that is all I wanted. A simple answer: What would you cut?" he explained.
The host then warned that the looming "fiscal cliff" means "both sides have to bring something to the table" and must be "specific." If they are not specific, he said, then "it gets maybe a little ugly."
"But I keep telling you here," he concluded, "I've done this to Republicans and to Democrats, I've done this to those who say they'll outline revenues but never do — outline cuts but never do. I'm not red or blue here, I'm just green and I'm seeing red right now for the craziness of all the green that's going, but we got to do this sort of thing. We'll stay on it."
Watch the apology below, via Fox:
[h/t POLITICO]
— —
>> Follow Andrew Kirell (@AndrewKirell) on Twitter
Have a tip we should know? tips@mediaite.com