Geraldo: Supreme Court Will Never Broadcast Proceedings Because They Fear Jon Stewart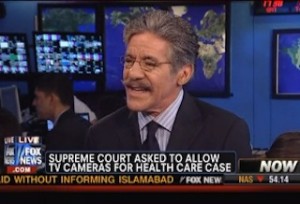 The U.S. Supreme Court will soon hear arguments over the constitutionality of President Obama's health care overhaul signed into law back in March of 2010. While the legality of what its detractors call "Obamacare" is the primary issue at play, a secondary –and more media-centric — issue has also arisen, and that is the costs and benefits of broadcasting the proceedings live from the nation's highest court, as has been requested by both C-SPAN and Senator Charles Grassley (R-IA.) In the esteem of Fox News' Geraldo Rivera, there are two simple words why the Supreme Court will never allow cameras inside their edifice: Jon Stewart.
Geraldo makes the following cogent point:
What they fear is that these majestic proceedings will be reduced not to a sound bite, but to a punch line. When you look at what the comedy shows, the various comedy shows, not just on Comedy Central but late night comics do with Republican debates, how they take a pause or a mistake or a, you know, a brain freeze and make it a punch line that goes on for days, that is what they're afraid of.
Some have argued that the U.S. Supreme Court belongs to the public domain, and as such, an informed an engaged populace has the right to easily view the proceedings in real time. Imagine, however, an embarrassing public moment captured by theoretical Supreme Court cameras. This would most certainly be mined, not just for comedic material, but presented in a more simplified and out of context manner. This practice could arguably expect higher standards by justices, or it could undermine the the authority of the highest court, which is what Geraldo argues in the clip below, courtesy of Fox News.
Have a tip we should know? tips@mediaite.com