Glenn Beck Hits Back At Sen. Rockefeller, Compares Fox News (And MSNBC?) To The Police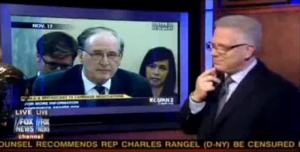 Yesterday, Sen. Jay Rockefeller took a page from Ted Koppel's book by saying that he wouldn't mind saying "goodbye" to Fox News and MSNBC. Just like Koppel received harsh rebuttals from Bill O'Reilly and Keith Olbermann, Glenn Beck was ready to respond to Rockefeller, comparing a government wanting to shut down the media to bank robbers asking for less police.
Beck, in front of a live audience composed entirely of women (today's episode was about food shopping, something men clearly know nothing about, then moved on to the senator's father, David Rockefeller, using quotes to show that, like all the villains on the show recently, the man was a devout globalist. This may seem like a bit of a roundabout way to respond to the Rockefeller's comments, especially given how the bank robber comparison had already done so fairly succinctly. However, it would appear that it's all part of a theme that Beck has been building to, both on the show and in one of the trailers for the documentary on his Restoring Honor rally, about the things we pass on to our children. He used the Rockefellers as an example, President Obama and his father as an example, and (you better believe it) George Soros and his father as an example. And, it would seem, Beck's father will be an example soon as well.
Beck brought out what looked like a Revolutionary War uniform that a woman had apparently found and a thrift store and claimed belonged to Beck's father. The host promised we'd get that whole story next week.
We are definitely DVRing that one.
Check out the clip from Fox News below:

Have a tip we should know? tips@mediaite.com