GOP Rep. Peter King Takes On Norquist: 'Pledge You Signed 20 Years Ago' Is Only Good For One Congress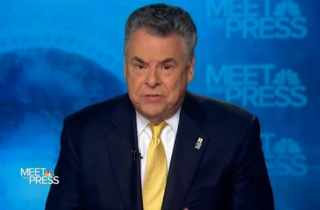 During an appearance on Sunday morning's Meet the Press Rep. Peter King (R-NY) joined the chorus of Republican lawmakers who have said are willing to break anti-tax activist Grover Norquist's long-standing pledge not to raise revenues through tax increases.
In the last week, Republican Sens. Saxby Chambliss and Lindsey Graham have indicated a willingness to break with the anti-tax pledge if it means achieving a deal to avoid the impending "fiscal cliff." Graham told ABC News that he would happily violate the pledge if it meant an entitlement reform deal; Chambliss dismissed the pledge as coming second to the country's economic security.
"I agree entirely with Saxby Chambliss," King told moderator David Gregory. "A pledge you signed 20 years ago, 18 years ago, is for that Congress. For instance, if I were in Congress in 1941, I would have supported a declaration of war against Japan. I'm not going to attack Japan today."
King continued on to explain:
The world has changed and the economic situation is different. Ronald Reagan and Tip O'Neill realized that in the 1980s. I think everything should be on the table. I, myself, am opposed to tax increases. The fact is the speaker and the majority leader and the president are gonna be in a room, trying to find the best package. I'm not gonna prejudge it. And I'm just saying we should not be taking iron clad positions. I have faith in John Boehner to put together a good package.
Watch below, via NBC:

— —
>>
Follow Andrew Kirell (@AndrewKirell) on Twitter
Have a tip we should know? tips@mediaite.com