Ann Coulter And Hannity Tear Into Right-To-Work Union Protestors For Encouraging Violence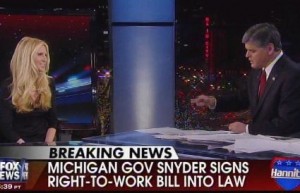 Sean Hannity brought on Ann Coulter tonight to talk about the strong opposition to right-to-work legislation in Michigan. They both criticized the violence coming from pro-union protestors and the double standard in the media regarding violence and violent rhetoric coming from liberals and conservatives.
RELATED: Steven Crowder On Union Brawl: If I Defended Myself, 'They Would Have Killed Me Where I Stood'
Hannity argued that forcing people into unions is "legalized stealing." Coulter said the only time liberals care about personal choice is where abortion is concerned, pointing out that some people don't necessarily want the benefits offered by unions. She lamented how Detroit used to have more millionaires than New York, but now it's been "destroyed by unions driving the jobs abroad."
Hannity said he was amazed at how close Detroit is to bankruptcy, with Coulter calling it a result of "capitulating to the mob." She wondered why the union protestors aren't being arrested, especially in the state house.
After a commercial break, Hannity said he doesn't like the "double standard" in the media that liberals can get away with violence but conservatives are attacked for everything. Coulter said liberals are "never held to account," while conservatives are consistently "falsely accused of engaging in violence." She bashed most of the left as part of a "mob movement."
Hannity brought up Steven Crowder getting assaulted earlier today, saying the union protestors attacked him completely unprovoked. Coulter quipped that she now understands why companies are sending manufacturers to China, and predicted Michigan would only be saved because of state Republicans and Governor Rick Snyder.
Hannity doubted that President Obama would condemn the union violence, while suspecting that Michigan would be a preview for what's to come for the rest of the country.
Watch the video below, courtesy of Fox News:
—–
Follow Josh Feldman on Twitter: @feldmaniac
Have a tip we should know? tips@mediaite.com
Josh Feldman - Senior Editor