Hannity Follows Up On Fiery Ellison Interview: He Was 'Ranting' And 'Incoherent,' 'Grasping At Straws'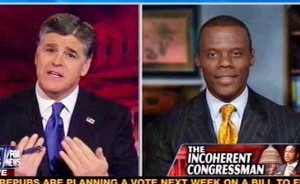 Sean Hannity used his show tonight to follow up on an explosive interview Tuesday night in which Democratic congressman Keith Ellison lambasted Hannity for telling lies about the sequester and called him "the worst excuse for a journalist." Hannity didn't pull any punches, displaying a graphic labeling Ellison "the incoherent congressman," and condemning his use of smear tactics instead of honestly answering the questions he posed.
RELATED: Dem Congressman Gets Thrown Off After Calling Hannity A Liar, Immoral: You're 'The Worse Excuse For A Journalist'
Hannity said Ellison was "grasping at straws" in order to attack him instead of acknowledging President Obama's role in the massive debt. Hannity brought on former congressman JC Watts, who immediately told Hannity the interview was very entertaining. Hannity admitted he could have been tougher on Ellison, but instead decided to let him dig his own grave.
Hannity asked why Obama supporters like Ellison cannot bring themselves to acknowledge that the debt has increased by six trillion dollars on Obama's watch. Watts said the entire sequestration fight is built on faulty logic, arguing that there aren't really any cuts, just diminishing the rate of increases.
Hannity ran another clip of Ellison getting particularly confrontational with Hannity on pretty much every point he brought up. Watts quipped, "We could have paid off the national debt if we had sold popcorn and Coke to that." Hannity asked why Democrats have to resort to smear tactics and fearmongering in order to get their points across. Watts said that the United States is facing an economic "day of reckoning" and liberals do not want to seriously deal with it.
Watch the video below, courtesy of Fox News:
—–
Follow Josh Feldman on Twitter: @feldmaniac
Have a tip we should know? tips@mediaite.com
Josh Feldman - Senior Editor