'He's Out With the People': Fox & Friends Runs North Korean Propaganda, Calls Kim Jong Un 'Quite the Romantic'
Fox & Friends took time on Thursday to show the "lighter side" of North Korean dictator Kim Jon-Un, airing photos from the regime's state-run propaganda network of the brutal killer visiting a fish factory with his sweetie, because awwwww. Something's changed since their coverage in February (below). But what it could be…
This morning, Fox anchor Jillian Mele read the story, which had no discernible news value, beginning with the fluff-piece classic line "turns out Kim Jong Un is quite the romantic."
Referring to Kim as the "North Korean dictator" she explained that he took his wife on a tour of a fish pickling factory. "State media releasing the photos to showcase what the rogue regime considers its economic strength," she said.
"The softer side," quipped Steve Doocy after the Mele tossed it back to the hosts.
"Very romantic," said Ainsley Earhardt. "A fish factory."
"Very romantic," Mele agreed in a joking tone.
Brian Kilmeade then said "the last couple of times have you seen him it's been out with the people" apparently referring to the factory workers compelled to participate in the photo op with the bloody tyrant who controls whether they eat or not.
"Is he smiling," asked Doocy.
"And wearing a t-shirt and a belt," Earhardt confirmed.
"On vacation," Doocy grinned regarding the state propaganda photo opportunity.
"Those come in packs of three. Haines," said Kilmeade laughed light-heartedly about the dictator's t-shirts.
The tone was decidedly different from a segment on the same show from earlier this year featuring the same three hosts.
This clip is from February of this year. Again, this is the same show, and the same hosts.
"This is the dictator's sister, this is an embarrassment " said a then-outraged Earhardt. "That is ridiculous. She oversees propaganda for that country, the country that enslaves people, the country that starves people."
"She oversees propaganda for that country," Earhardt said in her dudgeon. It was that propaganda machine that put out the fish factory photos.
"The country that enslaves people," Earhardt added. People like the ones Kilmeade today observed Kim was "out with."
"The country that starves people," she said. Fish is food, and today Fox and Friends uncritically stated the regime considers the sector an "economic strength." No mention of the starving.
Something changed between these dates.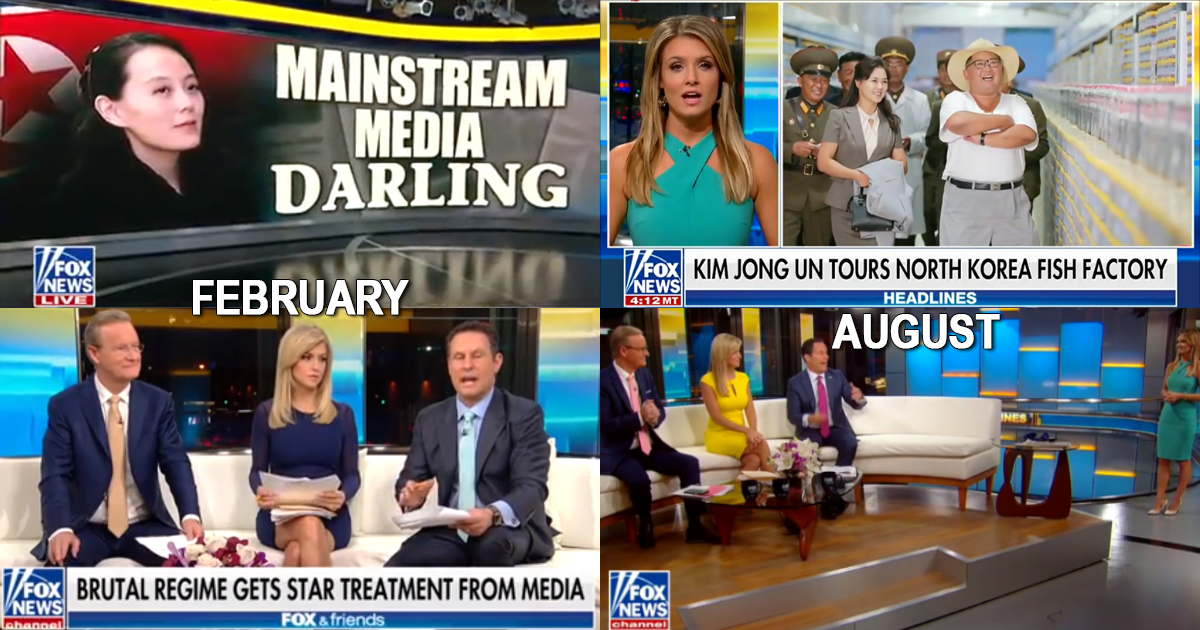 Wonder what it was…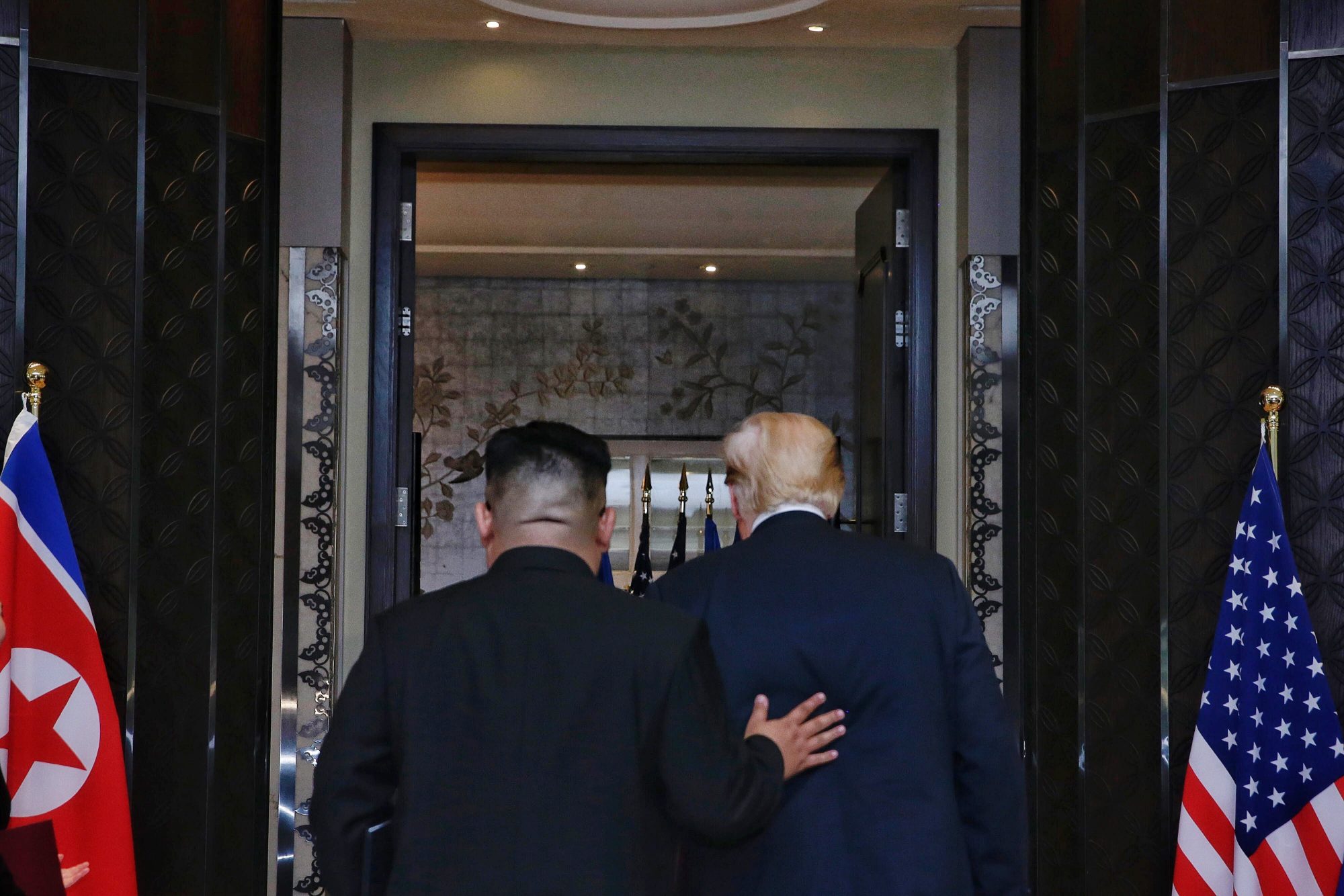 (Photo by Kevin Lim/The Strait Times/Handout/Getty Images)
In the February clip, Steve Doocy observed something about the media coverage of Kim Jong Un.
"Newsbusters refers to [Kim's sister] as North Korea's 'head of their propaganda and agitation network,'" said Doocy in February. "You know what, that's kind of what's happening now."
Agreed, Steve. It kind of is.
Watch the clip above, courtesy of Fox News.
[Featured image via screengrab]
—
Follow Caleb Howe (@CalebHowe) on Twitter
Have a tip we should know? tips@mediaite.com