House Republicans Furious at Leadership For Caving on Border Wall: 'Christmas Present' For Democrats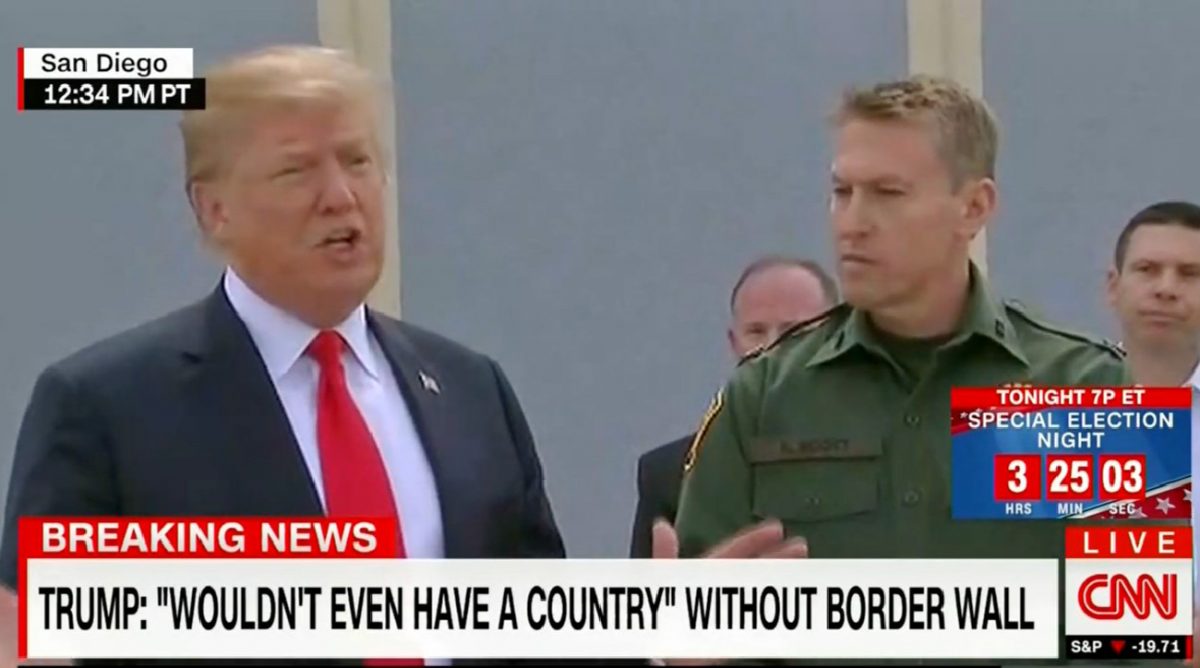 It appears President Donald Trump's dreams of building a big beautiful wall on the southern border are scuttled — for now — on Wednesday, after Senate Majority Leader Mitch McConnell (R-KY) announced a short-term spending bill that will keep the government into 2019, but denies wall funding.
The announcement signaled a pretty staggering retreat from the president, whose promise to build a wall was central to his campaign and something he insisted Democrats approve $5 billion for in this budget.
Trump's media defenders haven't taken it well. The hosts of Fox & Friends were harsh Wednesday in their assessment of Trump's efforts on the wall, and border security fetishist Ann Coulter predicted Trump will not finish his term over the brouhaha.
House Republicans are equally furious, notably members of the arch-conservative Freedom Caucus.
Rep. Mark Meadows (R-NC) , the chairman of the caucus, called the continuing resolution that would extend government funding "a Valentine's Day gift" for Democrats. "The time to fight is now," he pleaded.
Punting to Feb. 8 on a CR not only gives Democrats a Christmas present, it offers them a Valentine's Day gift. Democrats will win, the wall will not be built, and Congress will once again have punted when we should've been taking a stand. The time to fight is now. Zero excuse.

— Mark Meadows (@RepMarkMeadows) December 19, 2018
"Let me get this straight… our chances of getting the Wall will be better in February when Nancy Pelosi is Speaker than now when we have the majority?" asked Rep. Jim Jordan. "Give me a break."
Congressional leadership introduces CR until Feb. 8th WITHOUT $5 Billion for the Wall.

Let me get this straight… our chances of getting the Wall will be better in February when Nancy Pelosi is Speaker than now when we have the majority?

Give me a break. #DoWhatWeSaid

— Rep. Jim Jordan (@Jim_Jordan) December 19, 2018
Other lawmakers joined in the chorus of boos:
No wall?

No end to Planned Parenthood funding?

No return to fiscal sanity?

One day, Republicans will wish we addressed these challenges when we still had the chance.

I'll oppose the latest year-end spending package that won't fulfill our commitments.
https://t.co/7UE0cTShSM

— Rep Andy Biggs (@RepAndyBiggsAZ) December 19, 2018
Border walls work. That's a demonstrable fact. I think we missed an opportunity to get the funding for the wall. We passed the criminal justice reform bill last night, and I wish we would have tried to get something in return like the border wall. pic.twitter.com/lakroWV91h

— John Kennedy (@SenJohnKennedy) December 19, 2018
Republicans from TX, CA, FL (the three biggest GOP delegations in the House) secured $100 billion in "disaster assistance" for their own states last year but can't come up with $5 billion for border security/wall.

— Thomas Massie (@RepThomasMassie) December 19, 2018
We need the wall, and the wall will work. Building the wall, coupled with more border patrol agents and enhanced technology, we can send the message that we are serious about securing our border.https://t.co/PZ5He0jzdV

— Congresswoman Debbie Lesko (@RepDLesko) December 19, 2018
Have a tip we should know? tips@mediaite.com
Aidan McLaughlin - Editor in Chief