Huckabee: Brokered GOP Convention A 'Trainwreck,' But Pressure On Gingrich To Drop Out Is 'Unfair'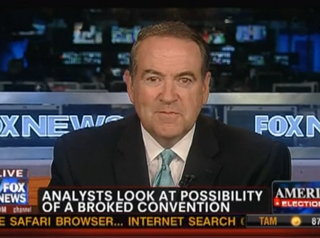 Mike Huckabee does not agree with Sarah Palin that a brokered convention is a good thing for Republicans– though he discourages the idea of Newt Gingrich stepping aside to prevent that from happening. The former Arkansas governor went on Fox News today to describe the brokered convention process to Uma Pemmaraju ("a trainwreck") and discourage the party from, if it must happen, choosing someone who didn't run during the primary.
RELATED: Sarah Palin Tells Hannity She 'Wouldn't Be Afraid' Of A Brokered Convention, May Be 'Very Good'
"If you've ever seen a trainwreck," Huckabee joked, you've seen a brokered convention. Calling it "a disaster for the Republican Party," he expressed dismay at the way this campaign has been run, "not because of process is taking so long, but because of the nature of it." While the brokered convention was a problem to him, he also took issue with calls for Gingrich to step out, particularly those coming from other campaigns. "I think even though there's a lot of pressure on Newt Gingrich to drop out, I think that's unfair on Newt Gingrich– Santorum could implode, or Romney could implode, or both of them could implode," he posited. That said, he admonished all the candidates for being too negative, arguing, "people can tell you what Republicans are against, I'm not sure the average person on the street can tell you what Republicans are for." He noted he would change his stance on Gingrich staying in "when Newt' supporters start telling him to get out– then it's time to think about it."
While Huckabee did not discount that a brokered convention "would certainly be entertaining, be a lot of fun for people to observe," he thought the worst that could happen was a candidate who "walks into a coronation." To have someone "walk in and just get handed this magic mante" without preparation, he argued, would leave someone unprepared for the political assault from the Democrats.
The discussion via Fox News below:

Have a tip we should know? tips@mediaite.com