If Stelter Is So Concerned About 'Plague of Fake News,' Why No Comment About CNN's Stealth Edit?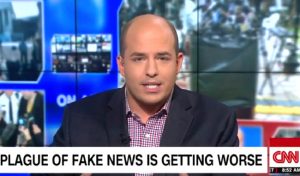 On Sunday, CNN's Brian Stelter took to his program Reliable Sources to decry the "plague of fake news" that has infested social media. The main point of the essay was to urge viewers to "triple check" their sources before sharing stories on Facebook and Twitter, noting how much damage the dissemination of hoax news articles — presented as factual — can do.
But the B.S. stories hurt the people who read and share them over and over again. Many of these fakes reinforce the views of conservative or liberal voters and insulate them from the truth. The stories prey on people who want to believe the worst about the opposition.
It was an admirable and much appreciated gesture by Stelter, fitting nicely into much of what he's been saying over the past few months regarding the need to be truthful in today's media climate. (This has led to him getting embroiled in a feud with Fox News' Sean Hannity after calling out the conservative host for pushing conspiracy theories.) You can check out the entire video essay below, via CNN.
"Triple check before you share." https://t.co/KRF1mMpGIl

— Reliable Sources (@ReliableSources) October 30, 2016
However, the same day Stelter delivered his message about fake news, his employer did something that should have infuriated and angered the media correspondent. Covering Republican presidential nominee Donald Trump's Colorado rally Sunday night, CNN published an article claiming Trump encouraged supporters to vote multiple times. The only thing is, he didn't.
Roughly an hour after the article was posted, CNN stealthily edited the piece to change its headline and quotes from Trump, providing additional context and changing the entire premise of the piece. However, it would be more than an additional hour before CNN placed a correction note at the bottom of the article explaining the edits.
Meanwhile, the initial tweet with the original headline remained up for two and a half hours and was retweeted over 900 times before finally being removed.
Yet, we haven't heard anything from Stelter, despite this clearly being in his wheelhouse.
While Stelter has noted on his Twitter timeline that he's taking most of today off, that hasn't stopped him from commenting on the recent Donna Brazile story, his own essay and other news items. Also, he did make an appearance on New Day this morning, where he and fellow media analyst Bill Carter discussed the disproportionate press coverage Hillary Clinton's emails have received and, ironically enough, media and Trump rallies.
But, nothing about CNN's own misstep in covering Trump's Colorado rally.
Stelter also sent out his daily newsletter this morning via Twitter, and in the newsletter, he touches on some of the events at Trump rallies and his own call to meticulously fact-check pieces before sharing, but nothing about CNN's article.
Now it is possible, perhaps even likely, that Stelter has not been made aware of this article and how CNN pushed a false narrative and then quietly tried to correct its mistake hoping no one would notice. However, at the same time, it is a bad look to make a concerted push for news consumers to pay extra attention to the facts on the same day your employer is exposed presenting a falsehood and then attempts to backtrack in a sneaky fashion.
The hope here is that Stelter will eventually use his critical voice to draw attention to this misstep by CNN and tell them they need to do better. A whole lot better. Otherwise, this will continue to feed into the perception, fairly or not, that CNN is 'in the tank' for Clinton. (A case that would normally be hard to make of a network with Corey Lewandowski, Scottie Nell Hughes and Jeffrey Lord in its employ.)
Watch Stelter's appearance on New Day above, via CNN.
[image via screengrab]
–
Follow Justin Baragona on Twitter: @justinbaragona
This is an opinion piece. The views expressed in this article are those of just the author.