'I'm Tired of This!' O'Reilly Goes on Explosive Tirade Against 'Weasels' in Obama Admin.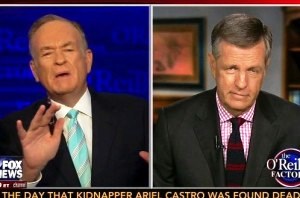 Bill O'Reilly has never been the biggest fan of the Obama administration, but the scandal of military benefits being halted during the government shutdown really incensed him and led him to go on a fiery rant against the White House on Thursday night. He brought on Brit Hume to discuss the shutdown mess, but it wasn't long before O'Reilly went off on President Obama and the "weasels" on his team for "stonewalling" and not doing their jobs, suggesting resignation might be in order.
They briefly addressed the potential deal proposed by the Republicans for a short-term debt extension, with both Hume and O'Reilly agreeing someone's going to have to give at some point.
But O'Reilly immediately went for the military benefits issue, calling Harry Reid a "real villain" and a "rank partisan" for saying the Senate vote on the benefits "wasn't necessary." Hume pointed out how the Pay Our Military bill passed by Congress last week was supposed to deal with this, but it turned out not to.
O'Reilly got teed off, saying Obama should have written an executive order, and went right for Chuck Hagel's jugular.
"Have you seen Chuck around? Where is he? Where? What interview has he done? Where is he? Where is this man?… This guy should be fired immediately! He has no right to be there, he's lost all credibility with the military! Get out of here!"
O'Reilly also went off on Jay Carney for "stonewalling" like the Nixon people did.
"It's not his job to stonewall! Hagel, Carney, all of 'em, GO! You don't want to serve the people, go! You can make a lot of money in the private sector. You know, I'm tired of this!"
Watch the video below, via Fox News:
[photo via screengrab]
— —
Follow Josh Feldman on Twitter: @feldmaniac
Have a tip we should know? tips@mediaite.com
Josh Feldman - Senior Editor