Joe Scarborough To Tina Brown: You Used That Photo To Make Bachmann Look Crazy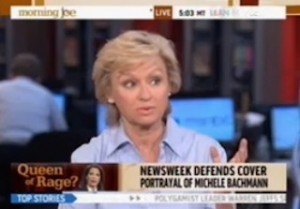 The reason why Tina Brown is held in such high esteem by many media moguls is that, despite some notable exceptions, she has almost always been able to get people to talk about the titles she oversees. This week's issue of Newsweek, featuring a cover photo of GOP hopeful Michele Bachmann, is no exception, which has sparked a slew of criticism and brought attention to a still struggling Newsweek. Brown is a regular on Morning Joe, and host Joe Scarborough flat out asked her "Be honest, you used that photo to make Michele Bachmann look crazy." Brown's defense seemed less than convincing, but what did she care, they were talking about her magazine!
Scarborough could not seem to contain his laughter, if not at Brown's defense over the cover image, then perhaps at the absurdity of the photo selection that was published by The Daily Beast and didn't make the cover.
If he played bad cop (or reasonable critic), then his co-host Mika Brzezinski played the role of good cop, politely asking Brown why the cover line "Queen of Rage" did not seem to connect with anything reported in the feature length article. Brown explained the choice of verbiage, "She is right now the face of the Tea Party," adding "we came off a week where rage was all the rage and let's face it…Michele Bachmann is the face of the Tea Party right now."
A reasonable defense, to be sure, but regardless of one's political bent, it's not unreasonable to have noticed that Bachmann cuts an attractive and photogenic visage, and that the photo used on the Newsweek cover seems to many notable media critics to be nothing but a ham-fisted attempt to make "the face of the Tea Party" seem slightly unhinged, and by extension, make the Tea Party seem unhinged as well.
Given the debt crisis negotiations of the last few weeks, it is reasonable to analyze the Tea Party politics as disconnected by status quo politics, rageful, even unhinged. The problem with the Newsweek cover, however, is that it has people talking more about Bachmann's unfair treatment by the media, and not about the policies and politics of Bachmann and the Tea Party. But what does Tina Brown care? We are talking about Newsweek, if even it has quickly become a joke for its recent spate of weird and questionable covers.
Watch the segment below, courtesy of MSNBC:
Have a tip we should know? tips@mediaite.com