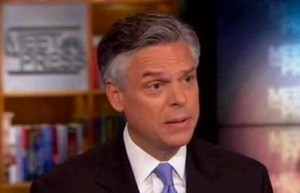 On his Meet the Press appearance today, Jon Huntsman made an appeal to the Republican party to reject some of the more extreme arguments being pushed by an arguably anti-intellectual wing of the party and embrace modern science instead of dismissing it.
David Gregory highlighted Huntsman's past statements criticizing the more extreme elements of his party, and asked the candidate if he was referring to some of his presidential rivals in those statements. Huntsman did not answer that question directly, but did speak to a Republican party who he believes needs to win over independents to win a general election, and has little chance of doing so if they are seen as rejecting scientific consensus.
"You can't run away from mainstream science, for example, and expect to win the race. You can't be on an extreme end of politics and expect to win over the independent vote. That's going to be a critical calculus in making sure that the next president is a Republican. You can't avoid that reality."
When Gregory pushed him, Huntsman did admit he was alarmed by how some of his GOP rivals in the presidential debates indicated they would be in favor of economic default, which he classified as an extreme position, because "a default would have destroyed this economy." Huntsman also weighed in on Mitt Romney's chances against President Obama, suggesting he could lose the general election because of his frequent flip-flops, but admitted he would support Romney were he the GOP nominee.
Watch the video below, courtesy of NBC:
Have a tip we should know? tips@mediaite.com
Josh Feldman - Senior Editor