Jon Stewart Rips 'Conservatives And Their Media Division' (Fox News) For Exaggerating Voter Fraud
Stewart: 'Conservatives & Their Media Division' Exaggerated Voter Fraud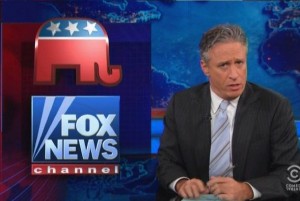 Jon Stewart took on the issue of voter fraud tonight, an epidemic he deemed to be "bigger than ringworm and less than Bieber fever." He noticed how many conservatives have been warning that voter fraud is a rampant problem, despite lacking much evidence to support that claim. Stewart noticed how the new voter ID laws being put in place seem to favor Republicans, with one state representative not even bothering to be subtle about which presidential candidate the voter ID laws would benefit.
RELATED: Jon Stewart Ridicules Fox News' Sudden Embrace Of Romney, Notes 'Romney's Election Is Fox's Job'
Stewart admitted he didn't know voter fraud was such a big problem, noting that "conservatives and their media division [three guesses who] are up in arms about voter fraud." Stewart looked at the voter ID laws being pushed by many states that are purging voter rolls and requiring photo IDs.
However, as Stewart noted, the National Republican Lawyers Association found only a few, scattered examples of voter fraud. And as for the state of Pennsylvania, Stewart marveled at how it is currently trying to defend its voter ID laws while simultaneously admitting they have no idea how effective they will be. Stewart also pointed to a state representative accidentally said in public that the new laws would help Romney win the state.
Correspondent Jessica Williams helped Stewart out by bringing up the latest regulations on voting, including where you rank on a color wheel and whether or not you get Jeff Foxworthy's jokes. Williams summed up the new voting laws thusly: "If you're not going to vote for Mitt Romney, stay the fuck at home!"
Watch the segment below, courtesy of Comedy Central:
—–
Follow Josh Feldman on Twitter: @feldmaniac
Have a tip we should know? tips@mediaite.com
Josh Feldman - Senior Editor