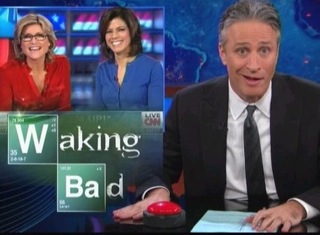 CNN's new morning show Early Start has a segment where they call newspeople early in the morning as a surprise and get them live, possibly before they are awake. Needless to say, spontaneous segments have a way of going… awry, and Jon Stewart took a peek at just how wrong things can go– first, during a call to one of the Kennedys, and then mistakenly dialing the wrong number, then telling that person that they were talking to the FBI and not CNN.
RELATED: CNN's Early Start Dials Wrong Number, Wakes Up Confused Man And Tells Him It's The FBI
"What could possibly got wrong?" Stewart joked, playing the clip of hosts Ashleigh Banfield and Zoraida Sambolin talking to Kerry Kennedy for their morning segment. "You don't cold call a Kennedy at 5 AM!" Stewart shouted, "do you know how many unexpected tragedies this family has suffered?" Stewart continued noting that "the Kennedys almost never get good news from CNN at 5 in the morning," and then turned to Banfield asking a serious question about JFK. "I get it," Stewart noted, "you want to have some morning show fun and do some hard news, but not at the same time!" Stewart then went into a hilarious mockery of a morning zoo show attempting to do hard news… complete with fart noises.
RELATED: CNN's Ashleigh Banfield Addresses Daily Show's Criticism: 'I Need Thicker Skin'
He then took a look at another segment of the program– an attempt to call comedian Chuck Nice, where instead they call a completely random person by mistake. They then tell the man that they are not CNN, but the FBI. "It's bad enough you gotta a wrong number some poor schmuck who doesn't speak English at 5 in the morning," Stewart noted, "but then you gotta tell him you're the FBI? You know where that guy was thirty seconds after hanging up? Shimmying down his fire escape."
The segment via Comedy Central below:
Have a tip we should know? tips@mediaite.com