Jon Stewart Takes The Fight To Fox News And 'Officially' Declares War On Christmas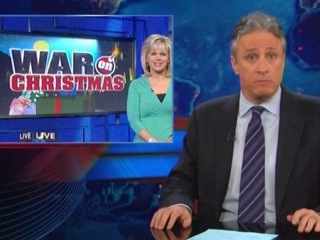 'Tis the season, Jon Stewart acknowledged today, as he caught the coverage on Fox News of Rhode Island governor "and part-time Steve Doocy impersonator" Lincoln Chafee referred to the plant one fills with lights and ornaments in December as a "holiday tree." But this year, Stewart wasn't going to take the Christmas assault lying down, instead opting to declare war on the holiday.
RELATED: Bill O'Reilly Does Epic Segment On The 'War On Christmas™'
Surely, he joked, calling a Christmas tree a "holiday tree" was "akin to wiping you ass with the Shroud of Turin," compared to how Americans in the past treated Christmas. To prove Laura Ingraham's point that Americans in the past respected Christmas more. Namely, he noted that Congress didn't even bother to take the day off. "When the country was founded, Congress had the same attitude towards the sanctity of Christmas as a 7/11 does: 'yeah, we're open.'"
He then looked around for other signs of attacks on Christmas, but seemed to find only Christmas all around. "We take for granted the ubiquity of Christmas," he noted, arguing that every major city "looks like it got hit with a 500-lb tinsel bomb and the White House looks like a yuletide episode of Hoarders." Not to mention that there were real attacks on the sanctity of Christmas– like that weird Mariah Carey/Justin Bieber music video.
To that end, Stewart declared war on Christmas, opting instead to celebrate every other religion, but most, "the end of the fourth fiscal quarter."
RELATED: Justin Bieber's Christmas Video With Mariah Carey: Creepy, or Really Creepy?
The segment via Comedy Central below:
Part 1:
Part 2:
Have a tip we should know? [email protected]