Jon Stewart Tears Apart GOP Autopsy Report For Changing Tone But Not Policy: 'Good Luck In 2020'
Stewart Rips GOP 'Autopsy' For Changing Tone, Not Policy: 'Good Luck In 2020'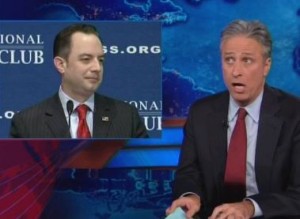 Jon Stewart tonight focused on a story missed during his hiatus last week: the Republican party's autopsy report. Stewart was less than impressed, joking, "It is a time of reflection and soul-searching for the GOP, and we'll let you know if they find one!"
Stewart mocked the very name "autopsy," which basically likens the GOP to a "bloated corpse." He said that the idea of softening tone instead of policy amounts to just tell gay people they are living in sin… with a smile on your face.
RELATED: RNC Chair Reince Priebus Promotes 'Permanent Campaign' To Combat GOP 'Caricature' On CNN
Stewart likened the autopsy's recommendation of creating pilot programs for conservatives in urban neighborhoods to a Westen explorer living amongst natives. Their attempts to engage minority voters and re-tool their message for those markets made the GOP comparable, in Stewart's eyes, to Kool cigarettes, because both organizations have "seemed indifferent to the overall health of minorities."
Of course, before the autopsy the conservative movement was riding high after CPAC, to which Stewart gave a rather dirty acronym. And if the problem with the GOP is the way they say things and not what they're saying, CPAC was not a prime example of that. Stewart highlighted Donald Trump going on a random immigration tirade, Michele Bachmann railing against White House excess, and apparent rising star Dr. Benjamin Carson.
But despite the party needing "a literal brain surgeon" to help them solve their problems, Carson declared at CPAC that "nobody is starving on the streets," which led Stewart to wish the party "good luck in 2020."
Watch the video below, courtesy of Comedy Central:
—–
Follow Josh Feldman on Twitter: @feldmaniac
Have a tip we should know? tips@mediaite.com
Josh Feldman - Senior Editor