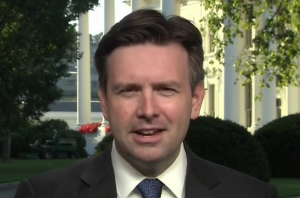 White House press secretary Josh Earnest had to dodge when pressed by the hosts of MSNBC's Morning Joe about whether or not Barack Obama would endorse Vice President Joe Biden if he ran for president.
"Does President Obama want Joe Biden to jump in the race for president, and will he support his vice president?" host Mika Brzezinski asked Earnest.
"Of course he will," co-host Joe Scarborough cut in. "If your vice president is running for president, Mika, you support the vice president, right? That seems like an obvious answer."
Given that former Obama ally Hillary Clinton is also in the race, the question put Earnest in a difficult position. "Well, uh, it certainly did generate news in the last 24 hours, didn't it?" he responded.
"Listen, what the president has long said is that choosing Joe Biden to be his running mate is the smartest decision he ever made in politics," he continued. "And I think that even given the high expectations that the president had for Vice President Biden, Vice President Biden over the last six and a half years has exceeded them."
"So what you're saying is, the president is saying picking Joe Biden was a smarter and wiser political decision than picking Hillary Clinton for Secretary of State?" Scarborough asked coyly.
"That's clever," Earnest admitted.
"I mean, you have the best political decision you ever made in your life, and you have the other!" Scarborough laughed.
"Only one could be best," guest Mark Halperin noted.
"Joe Biden has served the country and this president very well as vice president," Earnest said. "To be honest, I don't have a lot of insight into what Vice President Biden is thinking about right now."
Watch, via MSNBC.
[Image via screengrab]
——
>>Follow Alex Griswold (@HashtagGriswold) on Twitter
Have a tip we should know? tips@mediaite.com