Joshua Green: Truth About Attack In Libya Creates Problems For Obama Admin, Re-Election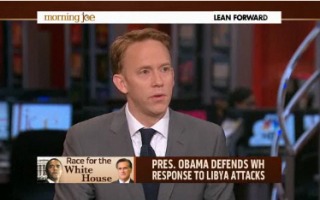 On Friday, the Morning Joe panel took a look back at Barack Obama's Daily Show appearance, during which he described the deaths of four Americans in Libya as "not optimal." Panelist and former Pennsylvania governor Ed Rendell pointed out that Obama had been echoing host Jon Stewart's phrasing of the question, and thought that the President had meant that these deaths were "unacceptable."
Donny Deutsch pointed out that the President isn't likely to gain even "one extra vote" by appearing on something like the Daily Show, because the show's audience is already "1,000 percent his base."
Bloomberg Businessweek's Joshua Green, meanwhile, felt that President has yet to deliver a succinct answer as to what actually happened and what went wrong in Libya.
Host Mika Brzezinski felt it was "opportunistic" of Romney and Republicans to take advantage of the President's phrasing, whereas Joe Scarborough thought the frustration at an administration that has yet to offer a consistent, clear explanation goes beyond just Republicans.
Rendell weighed in again, saying that he didn't think Susan Rice was lying when she described the attacks as being a spontaneous protest. After all, he noted, it's not uncommon for bad intelligence information to spread. He also couldn't think of a reason why the administration would lie about such events, prompting Green to present the idea that an Al Qaeda attack creates problems for the White House and Obama's re-election efforts.
Have a look, courtesy of MSNBC:
Visit NBCNews.com for breaking news, world news, and news about the economy
Have a tip we should know? tips@mediaite.com