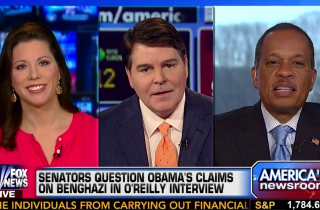 Appearing on America's Newsroom this morning, Juan Williams suggested it was fair of President Obama to criticize Fox News for its coverage of the 2012 Benghazi terrorist attack.
Asked by host Gregg Jarrett to address the president's declining to label Benghazi an "an act of terror" immediately following the siege, Williams responded that "At this point, it's a political football… that I think people are keeping alike to hector Hillary Clinton."

Later on, Jarrett asked whether it was "undignified" and "embarrassing" of the president, during his pre-Super Bowl interview with Bill O'Reilly, to "blame the the Fox News Channel for the Benghazi problem" and "for all his woes."
-RELATED: O'Reilly: Obama Annoyed with Fox Because He Doesn't Think Benghazi 'That Important'
Williams' response:
I didn't think that he blamed us for all his woes, Greg. What he said is so often everything that happens we frame as an outright scandal and corruption, and stupidity and just make it as if he's a bumbling clown. I think that's fair of him to say.
Jarrett fired back that "I can't think of another president who would say it's all your fault, cable channel," which baffled Williams: "Wait a second; hold on, hold on. You've never heard about a Republican president complain about the mainstream media?" the liberal analyst said, referring to George W. Bush's relationship with the media.
"Well, he did that in broad terms," Jarrett replied, garnering a dismissive chuckle from Williams.
Watch below, via Fox:
[h/t
MMfA
]
— —
>> Follow Andrew Kirell (@AndrewKirell) on Twitter
Have a tip we should know? tips@mediaite.com