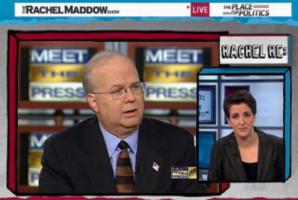 News broke yesterday that former Bush administration adviser and current Fox News contributor Karl Rove and his wife have divorced after 24 years. It was his 2nd marriage.
Depending on what you were watching on cable news, you saw vastly different coverage of the story.
Although MSNBC's news hours did not cover the story (according to TV Eyes), Rachel Maddow spent a brief segment during her 9pmET show on the topic (video below). She began by highlighting Rove's tactic of floating gay rumors about Democratic opponents of candidates he was advising. "To split the electorate in favor of Republicans is of course Karl Rove's modern political calling card," she said, before noting "without sympathy and without rancor" Rove's divorce. Update: Had the quote wrong (and obviously the meaning). She said "with sympathy."
She also played a clip of Rove talking about wanting a ban on gay marriage. "Political figures who respect the sanctity of other people's relationships don't generally have to worry about having the sanctity of their own relationships politicized, or questioned, or brought up on the news," said Maddow. The implication – it is fair game.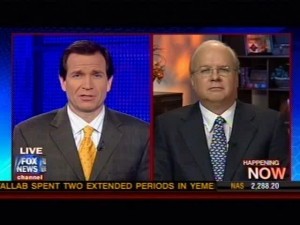 Fox News had an interesting decision to make – how do you cover a story about a contributor? To make matters more complicated, the statement was put out by the Rove family spokesperson Dana Perino – also a Fox News contributor.
The situation led to an hour like 11amET yesterday, when Jon Scott interviewed Rove at 11:14amET and again after the commercial break at 11:23amET about Flight 254 and other terrorism-related stories. 22 minutes later, Scott reported:
Dana Perino, family friend and spokesperson for Karl Rove issuing a statement on behalf of the Rove family. He and his wife Darby were granted a divorce last week. The couple came to the decision mutually and amicably. They maintain a close relationship and strong friendship. There will be no further comment, and the family requests that its privacy be respected.
Rove was later a guest on On The Record during the 10pmET hour. Needless to say, he talked about the attempted terror attack, and not the divorce.
On CNN yesterday, there were just two short mentions, during CNN Tonight and Campbell Brown.
Is the Rove divorce 'fair game' as Maddow implied? It certainly appears to be on the web. But more likely the story will go away quickly, as what Rove says in his FNC appearances or Wall Street Journal columns will be what others on the left and right bring up when discussing The Architect.
Here's the Maddow segment last night:


—–
» Follow Steve Krakauer on Twitter
Have a tip we should know? tips@mediaite.com