Krauthammer Dismisses Paul-Christie 'Civil War' On O'Reilly: More Like 'Tug Of War At A Family Picnic'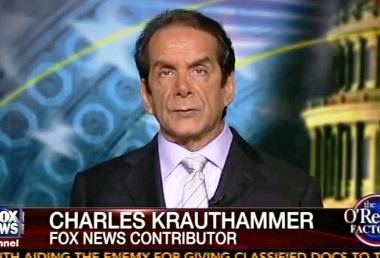 Bill O'Reilly tonight examined the brewing "civil war" within the Republican party over national security, best summed up by the ongoing feud between Rand Paul and Chris Christie. Charles Krauthammer dismissed the seriousness of this so-called "civil war," saying it's "more like a tug of war at a family picnic." Krauthammer did have some choice words for Republicans trying to shut down the government to fight Obamacare, saying makes no sense for the party's short-term political future to make threats that he predicted they would never be able to follow up on.
Krauthammer argued the big national security debate is is happening now as "the memory of 9/11 fades and the imminence of the threat is felt to be far less." He acknowledged these divisions are "exaggerated," but told O'Reilly that the one issue Republicans are being ridiculous on is this potential shutdown. He surmised they think they "have to jump off a cliff so we can show our manhood," and said every time they've made these threats they blinked.
O'Reilly brought up the apparent thin skin of a lot of Republicans who keep arguing with each other about who is and isn't a RINO. Krauthammer said, "The slings and arrows of the business–if you're not used to that, you should be doing something else." He concluded by saying if the GOP wants to win in 2014, they can't show that they're "completely irresponsible and shut down the government knowing that you will, in the end, going to cave."
Watch the video below, via Fox News:
—–
Follow Josh Feldman on Twitter: @feldmaniac
Have a tip we should know? tips@mediaite.com
Josh Feldman - Senior Editor