Charles Krauthammer Warns Gingrich Is 'After Vengeance': 'Captain Ahab On The Loose'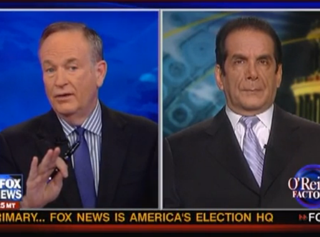 With less than four hours until some polls open in New Hampshire, Charles Krauthammer visited Bill O'Reilly tonight for his last-minute take on what would happen there but, most importantly, how South Carolina could shape the field as it narrows, particularly with Newt Gingrich "on the loose," and Krauthammer joked, no longer seeming to care about winning the race.
RELATED: Charles Krauthammer To Bill O'Reilly: Newt Gingrich Is 'A Victim Of His Own Creative Intelligence'
O'Reilly began by describing South Carolina as "Custer's last stand for Santorum, Gingrich, Ron Paul," assuming that Mitt Romney would do well tomorrow in New Hampshire. "I don't think it's just going to be a Custer's last stand in South Carolina," Krauthammer replied, "it's going to be a Rubicon." By this, Krauthammer elaborated that he meant he expected to see the candidates attack Romney with everything they have during that cycle, particularly Gingrich.
"Gingrich isn't after victory, he's after vengeance," Krauthammer argued, "This is Captain Ahab on the loose." He explained that Gingrich appears to believe he was on track to be a "world historic figure" by winning the presidency after being down exponentially in the polls, and his fall he blamed "on the negative ads of Romney and Ron Paul." The problem Gingrich faces, Krauthammer continues, is that "revenge is one thing, but you've got to have material."
O'Reilly replied that he did not believe the Bain story was strong enough to sink the Romney ship, to which Krauthammer responded that the image that other candidates make of Romney is key. "Will they be able to run ads showing people with tears in their eyes saying, 'I lost my home so Romney could become a multi-millionaire'?" is the question Krauthammer proposed that would decide the SC elections.
The segment via Fox News below:

Have a tip we should know? tips@mediaite.com