Lawrence O'Donnell Tears Into McCain And Lindsay Graham For McCarthy-Like Opposition To Susan Rice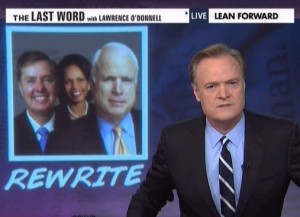 Lawrence O'Donnell took on senators John McCain and Lindsay Graham tonight over what he deemed their brand-new standards for how to decide whether or not to support someone for a Cabinet position, and found their opposition to U.N. ambassador Susan Rice as the possible next secretary of state not only hypocritical, but McCarthy-like in rhetoric.
RELATED: John McCain Fires Back At Obama Over Ambassador Rice: 'We're Not Picking On Anybody'
O'Donnell boiled the two senators criteria down to one simple fact: anyone but Rice. McCain and Graham both said that they would not support her nomination because she went on television and misrepresented the facts on the Benghazi attacks. O'Donnell said that the justifications both men are giving are plain lies, saying that Rice had "nothing to do" with the situation that unfolded in Benghazi two months ago.
He criticized "little Lindsay Graham" for trying to make Rice seem like one of the key players in what happened, stating that his comments earlier today made him the new Joe McCarthy of the Senate. O'Donnell said the media should not let Graham get away with pushing such a huge lie.
But what particularly struck O'Donnell was the hypocrisy of McCain and Graham's arguments, considering neither of them had any problem voting for Condoleezza Rice to become George W. Bush's secretary of state after she "failed miserably" as national security advisor and went on TV and warned about a "mushroom cloud over the United States of America."
O'Donnell accused McCain and Graham of supporting Condoleezza Rice despite knowing she lied about Iraq. O'Donnell highlighted Graham's justification for supporting one Rice but not the other: the United States wasn't the only country that thought Iraq had WMDs. Thus, O'Donnell coined the Graham Rule:
"It's okay for highly placed foreign policy players in an administration to be wrong about something they say on TV involving intelligence, as long as other people are wrong too, especially people in other countries."
O'Donnell also highlighted a quote of McCain's from earlier today about personal responsibility. O'Donnell was flabbergasted to hear such language from the same man who once jokingly sang about bombing Iran and chose Sarah Palin as his running mate in 2008. O'Donnell used the rest of the segment to hammer McCain over the Palin pick, just to make his words sound all the more hypocritical.
Watch the video below, courtesy of MSNBC:
—–
Follow Josh Feldman on Twitter: @feldmaniac
Have a tip we should know? tips@mediaite.com
Josh Feldman - Senior Editor