Maddow Rips Into 'Right-Wing Version Of Reality' And Conservative 'Conspiracy Theories'
Maddow Rips Into 'Right-Wing Version Of Reality,' 'Conspiracy Theories'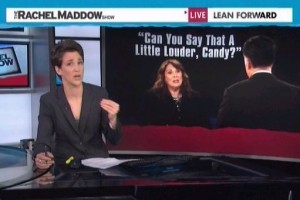 Rachel Maddow followed up on last night's presidential debate by going after the conservative media for creating a false narrative about the Obama administration's response to the attacks in Libya that led to Mitt Romney going after President Obama in the debate. She said that conservative media outlets have a habit of indulging in conspiracy theories in order to rewrite reality and change the story when the facts are not in their favor.
RELATED: Conservatives Choking On The Bone Candy Crowley Threw Mitt Romney
Maddow highlighted the fact that WorldNetDaily's Jerome Corsi was traveling with the press corps following Romney, despite the fact that he has touted a number of overtly ridiculous conspiracy theories about the president. Maddow didn't think it was possible for the site to sink any lower than churning up birtherism, but found that to be the case anyway. She used this as a jumping-off point to bring up the common thread of conservative media not as on the fringe as World Net Daily promoting "conspiracy theories" of their own.
Maddow highlighted the now-infamous exchange Obama and Romney had last night on Libya and how the president responded to it the next day. She made the point that Romney was buying into the conservative media spin about the Obama administration "never us[ing] the word terror" to describe the attack on the U.S. consulate in Benghazi. Maddow blamed the conservative media for promoting that false narrative, running the video of Obama using the phrase "acts of terror" the day after the attacks.
Maddow argued that Romney subscribes to the "right-wing version of reality," which explained his "leaping roundhouse punch" on Libya which ended up backfiring on him. However, the conservative media has been defending Romney on that question and instead going after moderator Candy Crowley for interrupting the Republican candidate for a quick fact-check.
Maddow concluded by blaming the website PolitiFact for encouraging a media culture that makes it okay to raise doubts about perfectly "knowable facts."
Watch the video below, courtesy of MSNBC:
—–
Follow Josh Feldman on Twitter: @feldmaniac
Have a tip we should know? tips@mediaite.com
Josh Feldman - Senior Editor