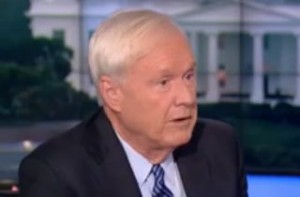 During today's Hardball, Chris Matthews went after Rush Limbaugh for pushing the idea that the discovery of liquid water on Mars was attached to a liberal climate change agenda.
Limbaugh said on his show yesterday that NASA's been lying for years about changing temperatures, and wondered if the Obama administration "corrupted" it by having them make up data to suit the left. He doubled down today by saying the media distorted his question, and touted it as proof that an agenda's already being attached to the discovery.
To this, Matthews examined distrust among conservatives for discoveries and scientific polling. He noted how most people acknowledge that science led to the end of World War II and putting a man on the moon, and had to ask when did science become opposed by right-leaning people.
Matthews and strategist Liz Mair then discussed how society has reached a point where a lot of people don't prioritize science anymore. Matthews agreed that the recent debate was part of a broader phenomenon in America, but emphasized his confusion for why conservatives continue to deny, oppose, or use skewed data when faced with scientific evidence on matters like vaccines and global warming.
"If you discover you've got a bad diagnosis from a doctor, the first thing most people do is go to the best people they can," Matthews said in an example. "They don't say who is is the craziest person with a theory. They go to the best person they can find."
You can watch above, via MSNBC.
[Image via screengrab]
— —
>> Follow Ken Meyer (@KenMeyer91) on Twitter
Have a tip we should know? [email protected]
---