Matthews: Won't 'Call Her Racist, But' 'Ethnicity's A Factor' In Bachmann's Criticism Of Obama's Dog Walker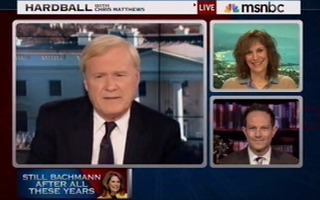 Rep. Michele Bachmann (R-MN) has been under fire in the press this week after she criticized President Barack Obama for taking advantage of the White House's taxpayer funded dog walker. Beyond the factual inaccuracies, however, MSNBC host Chris Matthews identified a racial element in Bachmann's criticisms of Obama. He said Friday that, in his opinion, the president's "ethnicity's a factor" in Bachmann's criticisms.

RELATED: Rep. Michele Bachmann 'Goes Rogue,' Literally Races Away From CNN Reporter
After playing a clip of several quotes Bachmann made recently which earned her the rebuke of the nation's fact checkers, Matthews returned to his guests and asked if they heard something deeper in her comments.
"You know, I'm going to be careful here, but I think ethnicity's a factor here," Matthews said. "You go after a president on things like dog walking and this ridiculous notion of five chefs on Air Force – like you can't have that because, from your background."
"Let me not call her a racist, but I don't know what's in this," Matthews added.
"Why's she bringing up these things now?" he asked The Daily Show co-creator Lizz Winstead. "I think it's nasty stuff."
Winstead agreed, and said that more people wonder why Bachmann gets public funds to do her job than Obama.
"I think she's more discriminating than that," Matthews shot back. He said that Bachmann wouldn't go after the Obama's for doing physical labor, suggesting that this is what she views as the Obamas appropriate role.
Watch the clip below via MSNBC:
> >Follow Noah Rothman (@NoahCRothman) on Twitter
Have a tip we should know? tips@mediaite.com