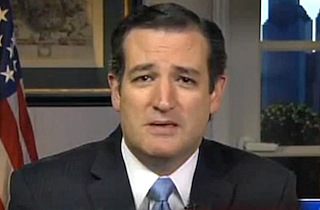 Your humble Mediaite scribe spent what he's choosing to believe was a dreary, drizzly day inside watching the Sunday shows so you didn't have to, and has distilled them into their Cruzalicious essence. Long Sunday short: the junior Senator from Texas had the worst September 22 of anybody not named Eli Manning.

What'd I Miss?
The GOP is really, really pissed at Ted Cruz (R-TX), the Senator leading the charge on defunding ObamaCare—or at least the one who was leading the charge until the House GOP actually passed a continuing resolution defunding ObamaCare and sent it to the Senate, where it's now Cruz's problem, at which point Cruz suddenly left something in his car and would you excuse him for a moment?
Anonymous GOP staffers and then fellow lawmakers spent Thursday and Friday taking shots at him, but things seriously escalated Sunday morning, when Fox News Sunday host Chris Wallace said he had received opposition research in advance of Cruz's appearance—from other Republicans.
Wallace patiently but relentlessly grilled Cruz over how he intended to get the defunding CR through the Senate, as he only had the votes to stop cloture, which would mean filibustering his own bill and shutting down the government. Cruz repeatedly answered that if the government did hang a gone-to-lunch sign on the Capitol doors, it would all be thanks to Senate Majority Leader of Jerks Harry Reid's use of "brute political power."
Wallace didn't buy this for a second. "You say this is 'brute political power,'" Wallace said. "It's Senate Rule 22." Watch:
Mike Lee's appearance on Meet the Press didn't go any better. David Gregory pressed the Utah Senator on whether he had the votes to pass the continuing resolution through the Senate, and when Lee tried to evade the question, Gregory wouldn't let him. (I know! David Gregory!) This forced Lee to claim they had the votes, though he could only account for forty-six at the most, solely enough to deny cloture. Even that was likely an overestimate; he was counting the forty-five Republican Senators who once voted to defund ObamaCare, though in that case the defunding was not tied to a continuing resolution to keep the government open, and thus was purely a symbolic vote. In short, when Lee said "We have support in the Senate," it appears he meant "We don't have support in the Senate."
Finally, Representative Matt Salmon, who'd voted in the House for the continuing resolution to defund the ACA, showed up for a lecture at Face the Nation. "This is not the land of wishful thinking," Bob Schieffer explained to him, in the key of Keep-Your-Hands-Off-My-Granddaughter. "This is the land of what's real."
What Didn't I Miss?
A substantive debate on gun control.
This Week with George Stephazzzzzzzzzzzzzzzzzzzzzzzzzzzzzzzzzzzzzzzzzzz
Best "I Said the Loud Part Quiet and the Quiet Part Loud" Moment:
On Meet the Press, NRA Executive Vice President Wayne LaPierre listed the vast array of dangers to society that we should be focusing on instead of guns, like drugs, sex-trafficking, and guns. I don't think he meant to include that last one.
Number of Times Guests Said "Let Me Be Clear":
At least three.
Best Smackdown:
"If you can find me a family that sits around the dinner table and says, 'Let's defund ObamaCare,' I want to meet that family," Jon Lockhart said on CNN's State of the Union, in response to Al Cardenas's claim that Americans' primary political desire was to see ObamaCare defunded. "That is a Washington creation."
Born Yesterday Award:
Fox's Laura Ashburn: "I was shocked by Maureen Dowd." Bartender!
[Image via screengrab]
——
>> Follow Evan McMurry (@evanmcmurry) on Twitter
Have a tip we should know? [email protected]