Mike Huckabee Takes A Victory Lap For 'Chick-Fil-A Appreciation Day' On Fox & Friends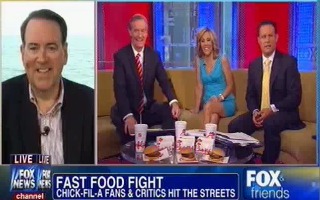 Former Arkansas Gov. Mike Huckabee appeared on Fox & Friends on Thursday to celebrate his role in getting Wednesday's "Chick-fil-A Appreciation Day" off the ground. Huckabee took a victory lap over his role in the successful political statement made yesterday. He also said that he supported the rights of the gay and lesbian community who intend to organize a counter-protest set for Friday.

RELATED: Gov. Huckabee Basks In Success Of Chick-Fil-A Appreciation Day: 'Big Day For America'
Steve Doocy asked Huckabee why he started this celebration of Chick-fil-A management.
"It was just getting out of hand – the hate speech and the incredible language that was being hurled at Dan Cathy, the CEO, because in an interview with a Christian newspaper he took a stand for traditional marriage," said Huckabee. "For that, he was just being bullied. Economic bullying was the way this was going down."
Huckabee listed a number of CEOs of profitable companies who are active and supportive of gay marriage rights who do not suffer any boycotting threats over their views.
Huckabee said that he wanted to show that Christians could show that they could believe what they believe "without being punished economically."
The former Arkansas governor went on to say that he had over 21 million views to his Facebook page and each of the over 1,600 Chick-fil-A stores had record sales on Wednesday.
"Let me make clear, the Chick-fil-A company, nor its executives, they didn't propose this. They didn't promote it. I have had no personal contact with the people from Chick-fil-A," said Huckabee. "It just went viral."
"This is about making sure we all play by the same rules," said Huckabee. He cited Chicago Mayor Rahm Emanuel coming out and saying that this restaurant did not reflect his city's values while, on the same day, embracing Louis Farrakhan who is also not supportive of gay marriage rights.
Doocy asked what Huckabee thought about Friday's "kiss-in" in which some gay and lesbian couples will organize a counter- protest.
"That's America," said Huckabee. "As long as they're orderly. As long as they don't disrupt the flow of customers and traffic. If they believe that this will help their cause – to put people of the same sex kissing each other in front of families – if they believe that will encourage people to be more sympathetic than more power to them. In America, I believe that people have the right to do things that I might not agree with."
Watch the segment below via Fox News Channel:
> >Follow Noah Rothman (@Noah_C_Rothman) on Twitter
Have a tip we should know? [email protected]