Mitt Romney: Welcome To The Man Cave, Where Rachel Maddow Will Teach You How A Uterus Works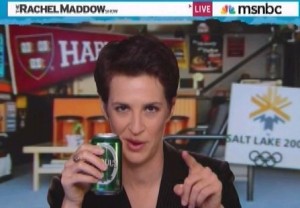 This evening on her show, MSNBC's Rachel Maddow focused on a question recently posed to Mitt Romney during a town hall gathering. This question, as Maddow put it, seemed to "stump" the GOP candidate, which she found to be curious given that many shows — including her own — have been emailing Romney's campaign people for an answer to this very same question, so Romney must have at least some awareness that this issue is out there and on people's minds. What question, you ask?
Well, here's how the young woman who attended that town hall posed it:
"You were on Governor Huckabee's show a few weeks ago, and one of the things that you folks talked about was that you would support a 'life begins at conception' amendment. Now, that would essentially mean banning most forms of birth control. Ninety-eight percent of American women — including me — use birth control. So could you help me understand why you oppose the use of birth control?"
RELATED: Herman Cain Tells Piers Morgan That He Is Anti-Abortion, Yet Pro-Choice?
Romney's answer? "I don't." [Laughter] "I'm sorry. Life begins at conception; birth control prevents conception."
But, Maddow said, the "Life Begins at Conception" / "Mississippi Personhood" amendment that Romney supports does not only aim to ban abortion. Since any fertilized egg would be considered a person, "a miscarriage would be cause for a criminal investigation." In addition, it would indeed potentially outlaw certain forms of birth control. So it would seem, Maddow continued, that Romney doesn't seem to fully understand the amendment he professes to support.
Going back to that town hall meeting in Sioux City, then, Maddow showed footage of that same young woman informing Romney that some forms of hormonal birth control actually prevent implantation (when an already fertilized egg, or blastocyst, becomes attached to the uterine wall) rather than conception (which is when sperm fertilizes an egg). "The pill" is an example of hormonal birth control, by the way, and is quite popular and widely-used.
Maddow then shared the sort of "light bulb moment" she had while watching and re-watching Romney's interaction with that young woman: Politics? "Mostly guys." And the media? "REALLY mostly guys."
So why not try and drop a lil' uterus knowledge, if you will, on dudes who might not really know how lady parts work? Time for…. The man cave! Beer included. (If the term "lady cave" didn't sound so… completely vaginal… this is the part of the post where I'd mention that, hey!, lady caves can include beer too! But that sounds incredibly icky, so.)
Maddow then gave a very thoughtful shout-out to us straight ladies, noting that, at times, we engage in activities where sperm — courtesy of a gentleman — may find itself approaching an egg — provided by the lady — even though neither party hopes for these two elements to come together and form a blastocyst. Hormonal birth control can stop this by, say, stopping the production of eggs (ovulation), so that the sperm have no one to welcome them. They also make it more difficult for a gentleman's sperm to even get close enough to a lady's egg to drop off his calling card. It's all incredibly civilized, I assure you. Now, should a gentleman manage to leave his calling card successfully, some forms of birth control work to make sure the resulting blastocyst doesn't implant itself on the uterine wall, a thing for which I don't have a nice metaphor. Dropping off his coat and hat? That works, yes?
Here's the segment, via MSNBC. (If you weren't familiar with all things uterine and birth control-related before, did Maddow's segment help?):

Have a tip we should know? tips@mediaite.com