Morning Joe Looks At 2016: 'Are We Making The Same Mistake' In Thinking Hillary Would Be Unbeatable?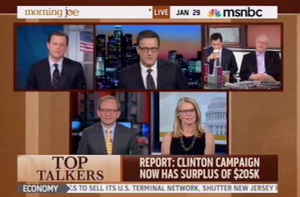 On Tuesday's show, the Morning Joe crew looked ahead to the next presidential election — particularly in terms of Democratic candidates. While many have been running under the assumption (and/or staunch hope) that Hillary Clinton's time will finally come in 2016, the panel looked at the other possibility, Vice President Joe Biden… and whether she's really unbeatable.
Clinton is the "elephant in the room" when it comes to 2016, Steve Rattner (a big 2008 Clinton donor) remarked. "Hard to imagine that she doesn't give this really, really serious thought," he added, noting her popularity.
But there is another potential candidate here: Biden. His reality is dependent upon Clinton's plan, Katty Kay asserted. If she decides to run, Biden "is going to have to back off." He's "in a difficult position," she observed, because he basically "has to sit and wait."
Back in the day, before the 2008 election, Joe Scarborough recalled, nobody believed anyone could beat her. That, of course, was history once then-Sen. Barack Obama popped into the picture. "Are we making the same mistake that we made before?" he asked.
In response, Sam Stein pointed to his cold sweats due to 2016 chatter so soon — leading Scarborough to note it's not about 2016, but that these dynamics will shape the direction of the Democratic Party going forward. To that point, Stein asserted that Biden has to remain a presidential possibility because of the power that comes with it.
"There is no Barack Obama at the moment," Rattner said. "Let's not make too many assumptions."
Take a look, via MSNBC:

Have a tip we should know? tips@mediaite.com