Morning Joe On Mike Wallace: He Never 'Played TV'… Except, Maybe, When Making Streisand Cry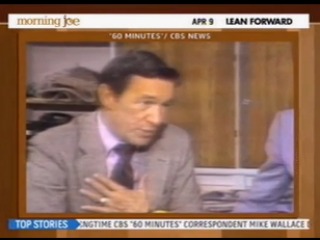 On Monday, the folks at Morning Joe shared a few of their favorite memories of and interviews by Mike Wallace, the journalist and famed 60 Minutes correspondent who passed away on Saturday (and a particular memory about his colleague, Andy Rooney, who evidently never cared much for Mika Brzezinski's taste in footwear.)
RELATED: Legendary CBS Broadcaster Mike Wallace Has Died At Age 93
They recalled, for instance, Wallace's interview with Ayatollah Khomeini in 1979, wherein the newsman informed him that the President of Egypt been referred to him as "a lunatic."
Brzezinski reminisced about the culture over at CBS during her time there:
I met Mike Wallace in the hall by the ATM in the basement at CBS, and he stopped me and remembered my work and started talking about it, and it was a very daunting moment because I had followed him all throughout my life and career, dreaming of being a journalist some day. And he was extremely charming, just as he was on camera. And as far as [producer and 60 Minutes creator] Don Hewitt's concerned, he was another one of the greats. I got to work with him and he was coaching me, tracking a piece for 60 Minutes. And these guys really know how to bring themselves into the story without becoming the story so that they can tell the story in its true essence. And they learn how to help you find your voice instead of playing television. Nobody on 60 Minutes plays television. Everybody on 60 Minutues brings what they bring to the table, and they bring what they bring to the table to make the interview the best that it is.
She also shared a great moment when Hewitt, after hearing her struggle to "perform" a story, came up to her, threw away her notes, and demanded that she simply tell him the story.
Joe Scarborough — who remember that it was rare for his father to watch TV without declaring a newscaster a "communist," particularly during coverage of President Nixon's involvement with the Watergate scandal — noted that Wallace was different from others in the business because he never "played tv"… with the notable exception, perhaps, of creating a great television movie by literally bringing singer and actress Barbra Streisand to tears during a highly emotional interview wherein he'd informed the star that her mother felt she didn't "have time to be close to anyone."
Have a look, via MSNBC:
Have a tip we should know? tips@mediaite.com