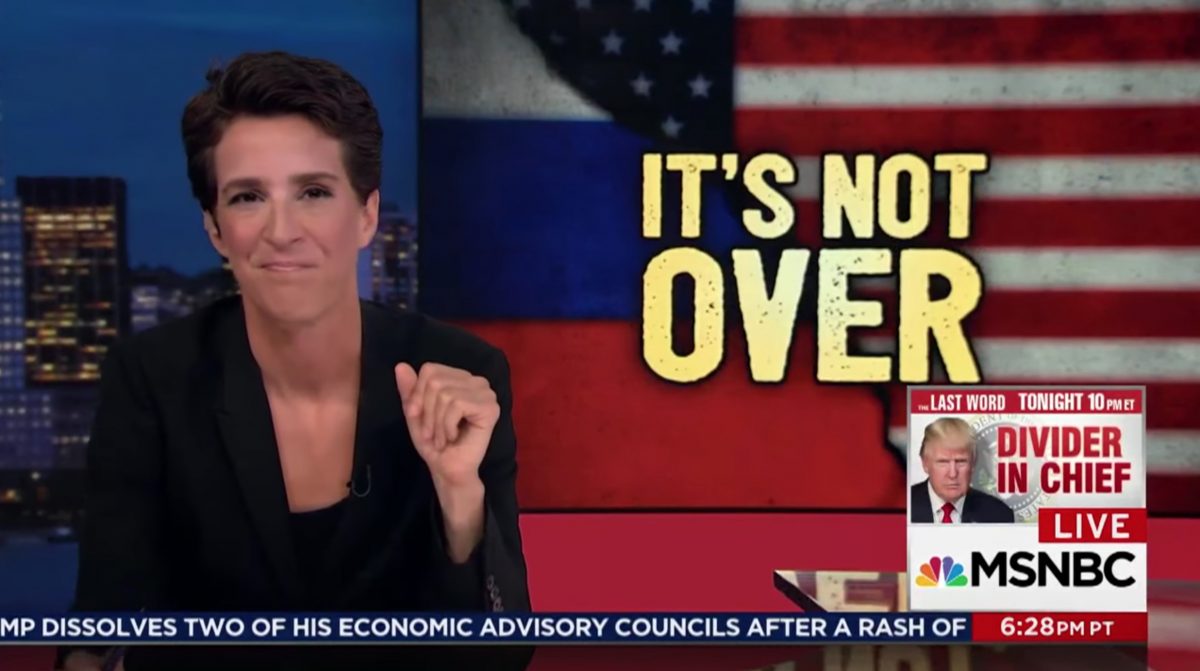 MSNBC is thriving in the Trump era…still. That is to say, where other networks and news outlets are experiencing ratings declines and traffic dips as news fatigue sets in (the latest Trump scandal just doesn't resonate like it used to), MSNBC has posted impressive growth since this time last year.
What makes that even more impressive is that this time last year was when cable news was blasting through ratings records thanks to blanket coverage of President Donald Trump's inauguration and the dawn of his administration.
An analysis of MSNBC's numbers reveals why: the network's progressive primetime shows, hosted by Chris Hayes, Rachel Maddow, and Lawrence O'Donnell, are surging — posting stunning year-over-year growth not just in the raw numbers but also in their share of the overall cable news audiences.
And that's because they're doing what they do best: serving up smart, analytical and entertaining anti-Trump comfort food for their traditionally left-leaning viewers.
But MSNBC striking ratings gold this year appears to come not because of, but despite, the actions of its senior leadership. Instead, NBC News executives have seemingly done everything they can — from stocking up with conservative commentators to scheduling ex-NBC Nightly News anchor Brian Williams just after primetime — to move the network to the center.
In January, MSNBC posted staggering growth of 65 percent from last year in primetime viewership (made even more impressive considering Fox News fell 15 percent and CNN 14 percent). And Maddow, its primetime titan, notched her best ratings week ever. She averaged more than 3 million viewers in early January, beating out rival Sean Hannity's Fox News show by almost 400,000 viewers, and ended the month topping cable news in the coveted adults 25-54 demographic. Though the regular ratings victor Hannity was back on top for February, Maddow continued to grow her audience relative to 2017.
And it's not just Rachel Maddow who is fueling MSNBC's growth. Though the rise of her show in the cable news rankings is remarkable, Hayes and O'Donnell have seen similar success since February of last year. As Maddow went from 7th to 3rd in overall viewers, O'Donnell jumped from 13th to 8th and Hayes from 17th to 9th. MSNBC, as a whole, was up 23 percent in overall viewership and 15 percent in the demo.
That's concrete evidence of the growth of a network running against a tide of declining cable news ratings for its competitors. But before you dole out a standing ovation to the head-honchos at MSNBC, it's worth noting that this success flies in the face of their publicly stated strategy to pull back from the network's "Lean Forward" days in favor of a more centrist approach.
This internal battle between the network's surging ratings, and NBC News chairman Andy Lack's desire to divorce MSNBC from the liberal firebrand identity of its Keith Olbermann days was well documented by Ryan Grim in a HuffPost report from May of last year, the month the network was crowned — for the first time in 17 years — no. 1 in prime-time cable news.
It was an "unusual problem," Grim wrote: the network's "sky-high ratings" were being driven by its liberal primetime programming, the triumvirate of the #Resistance — Maddow, Hayes and O'Donnell, which conflicted with Lack's vision of a centrist network personified by Brian Williams.
"The entire primetime lineup is doing record numbers and Lack can't stand it," one senior MSNBC source told Grim, reportedly echoing the sentiments of other network insiders. "It makes him furious."
Lack has engaged, since arriving at the network in 2015, in something of a purge of MSNBC's most progressive hosts — who were replaced with straight news programs and in some cases conservatives: Alex Wagner, Joy Reid (who now has returned on the weekend), and Ronan Farrow saw their shows cancelled, and new hires included former Fox Newser Greta Van Susteren, former Bush aide Nicolle Wallace and conservative radio host Hugh Hewitt. Al Sharpton's 6 p.m. show was canceled, and replaced with one from Mark Halperin and John Heilemann.
And how has that strategy fared? The Halperin-Heilemann show was canceled (unrelated to the later implosion of Halperin's career due to sexual harassment accusations; the show just rated poorly), and replaced by Van Susteren. She lasted six months before her show was also canceled due to lackluster ratings.
Van Susteren was replaced by MSNBC chief legal correspondent Ari Melber, an unabashed progressive whose wonky program The Beat dedicates the lion's share of its coverage to the Russia investigation and the rich tapestry of Trump's legal woes. It's faring far better, pulling in 1.45 million overall viewers in February 2018, compared to Van Susteren's 900,000 that month last year. That makes it MSNBC's best rated show ever in the 6 p.m. time-slot, and a hit in the A25-54 demographic, with 56% growth in 2017. What's more, Joy Reid's weekend show continues to post impressive numbers, regularly averaging more than 1 million viewers.
Lack's efforts to Lean Centrist even targeted the network's booming primetime shows, as Lawrence O'Donnell's battle to secure a new contract last year spilled out into very-public view. Despite his historically high ratings, O'Donnell's seven-year-old program appeared to be on the chopping block when his contract had yet to be renewed just weeks before its expiration — it was even rumored that Lack wanted to replace the host with Brian Williams. But through the messy public back and forth, O'Donnell survived, and Williams stuck with the 11 p.m. time-slot.
Ultimately, despite Lack's reported reluctance to embrace the Resistance, it doesn't appear he has much of a choice. Unlike CNN, where ultimately boss Jeff Zucker clearly calls the shots, Lack's vision has been stubbornly stifled by his own talents' impressive success.
You may have noticed no mention here of MSNBC President Phil Griffin, the executive credited with launching Maddow's career and shaping the network's current primetime lineup. Well, that is because, since Lack's arrival, Griffin has reportedly been given little autonomy to make major decisions and rumors have continued to persist that his days could be numbered.
O'Donnell's show has gotten in the habit of regularly raking in more than 2 million viewers, taking an increasingly impressive share of cable audiences. Meanwhile, Williams, a key ingredient in Lack's experiment to make bring MSBC to the center, has just seen his show overtaken in the ratings by Shannon Bream's new live 11 p.m. Fox News show. At what point does MSNBC say we know what we are and we know what works? That doesn't mean changing the impressive news coverage that NBC News and MSNBC continue to deliver on the network, but it does mean ending the pipe dream that somehow the network will be seen by conservatives and liberals alike as "fair and balanced." It's not and shouldn't be.
[image via screengrab]
—
Follow Aidan McLaughlin (@aidnmclaughlin) on Twitter
This is an opinion piece. The views expressed in this article are those of just the author.
Aidan McLaughlin - Editor in Chief