MSNBC's Contessa Brewer's Attempt To Discredit GOP Congressman's Economic Expertise Backfires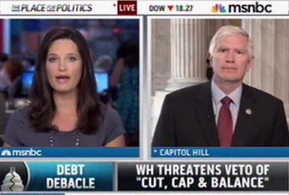 Republicans are quickly learning that MSNBC might be the network where they can best make a splash by forcefully challenging the network's hosts. Yesterday Congressman Joe Walsh took on Chris Matthews in a no holds barred memorable showdown, and this morning Republican Congressman Mo Brooks left Contessa Brewer nearly speechless when he swatted down an implication from her that he didn't know anything about economics.
The awkward moment for Brewer took place during this exchange:
Brewer: "You're simplifying the issues that were on the plate of the nation at that point. I mean we were looking at going – averting a Depression at that point, everyone the Fed chairman . . .
Brooks: "Well I disagree that we were going into a Depression, but go ahead."
Brewer: "Do you have a degree in economics?"
Brooks: "Yes Ma'am I do, highest honors."
Brooks' biography backs up his educational claim, in that he "graduated from Duke University in three years with a double major in political science and economics, with highest honors in economics." Brooks also scored some political points defending the House Republicans budget plan as something concrete, unlike the "speeches and talk in generalities, which is what the President and the White House staff, along with the Senate, are doing."
Don't get us wrong, we are often entertained and impressed with Brewer's tenacity. And, aside from her attempt at a dig, she did forcefully challenge Brooks on a different claim that "it's [Obama's] debt, it's [Obama's] debt ceiling," by asking "why do you lay all that debt at the feet of President Obama when it's clear that the wars in Iraq and Afghanistan added to the nation's debt?" Overall though, Brewer's failure to research the background of her guest might give credence to some critics who will now inevitably wonder in response if Brewer does in fact have a degree in journalism. But we already know the answer to that question: yes, she does.
Watch the clip from MSNBC below:

Have a tip we should know? tips@mediaite.com