MSNBC's Mitchell Grills Wasserman Schultz: How Do You Go to Midterms Defending Obamacare?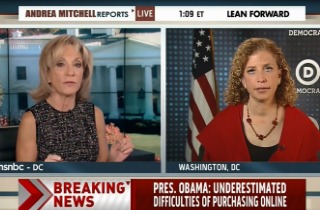 Following the conclusion of President Barack Obama's announcement of fixes to the Affordable Care Act aimed at reinstating some of the millions of cancelled health insurance plans, Democratic National Committee Chair Rep. Debbie Wasserman Schultz (D-FL) joined MSNBC host Andrea Mitchell to discuss the political impact this new fix will have on the 2014 midterm landscape. Mitchell probed Wasserman Schultz over how Democrats can continue to campaign on the ACA given it's many problems.

Wasserman Schultz began by praising the president for listening to the concerns of congressional Democrats and announcing this fix to the ACA.
"That's only if the insurance company goes along with it," Mitchell said. "There's no teeth in what the administration announced with the administrative action."
Wasserman Schultz dismissed this concern and noted that, if this action proves insufficient, Democrats are still considering a "keep your plan" proposal offered by Sen. Mary Landrieu (D-LA). She rule out, however, a proposal advanced by Rep. Fred Upton (R-MI) which would allow new policies that are not complaint with the ACA to be sold past 2014.
"Their interest is transparent," she said. "They don't want to make sure this law works."
RELATED: President Obama Announces 'Keep Your Plan' Fix: Permit One Year Extension of Cancelled Plans
"Regardless of what the Republican approach has been, the Democrats and the White House have armed your opposition by messing this up," Mitchell countered. She added that any ACA fixes may "destroy the economic rationalization" for the law.
Wasserman Schultz said that this is exactly why the Upton proposal is unacceptable.
"But surly you're hearing from your colleagues," Mitchell replied. "They are worried now about the midterm elections."
"This is a real political problem," she added. "How do you reassure members? How do you go forward with the election defending Obamacare at the same time as you realize it is a real setback for the Democratic Party?"
"They simply wanted this commitment to be sure that it could be followed through," Wasserman Schultz said of Democrats who wanted the president to offer fixes to the law. "Democrats are united behind the Affordable Care Act."
Watch the segment below via MSNBC:
[Photo via screen grab ]
— —
> >Follow Noah Rothman (@NoahCRothman) on Twitter
Have a tip we should know? [email protected]