Nancy Pelosi To Fox's Chris Wallace: It's A 'False Argument To Say We Have A Spending Problem'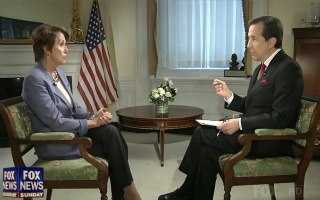 On Fox News Sunday, House Minority Leader Nancy Pelosi (D-CA) told Fox News Channel anchor Chris Wallace that the ongoing debate about a balanced approach to deficit reduction should not place undue emphasis on spending cuts. She said that it is "almost a false argument" to say that Washington has a "spending problem." Pelosi noted that there have been "plenty of spending cuts," and budgetary priorities like education and food safety must be protected.

RELATED: Boehner Invents New Word To Pin Sequestration On Obama…
"Sequestration is a bad idea all around," Pelosi began.
"The fact is we've had plenty of spending cuts, $1.6 trillion in the Budget Control Act. What we need is growth," Pelosi said. "Slashing spending indiscriminately, she said, would hurt growth prospects for the U.S. economy."
"What we do need is more revenue and more cuts," she added. "What I would like to see that is a big, balanced, bold [budget] proposal. Short of that, we must do something to avoid the sequester."
Wallace asked Pelosi for her thoughts on House Speaker John Boehner's (R-OH) insistence this week that Washington must "deal with its spending problem."
"With all due respect to the Speaker, what he said is not the gospel truth," Pelosi said. "The fact is that a lot of the spending increases came during the Bush administration."
"But the total debt has increased $5 trillion since this president came in," Wallace countered. Pelosi replied by saying that this new debt was necessary to avoid going into a depression after the economic collapse in 2008.
"Nothing brings more money to the treasury of the United States than investment in education of the American people," Pelosi said. "It is almost a false argument to say we have a spending problem. We have a budget deficit problem that we have to address."
She noted in conclusion, however, that the debt and deficit are at "immoral levels" and need to be reduced.
Watch the segment below via Fox:
> >Follow Noah Rothman (@NoahCRothman) on Twitter
Have a tip we should know? tips@mediaite.com