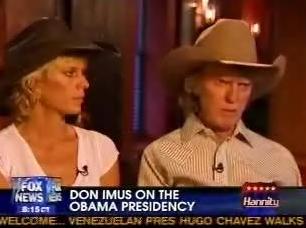 Radio star Don Imus begins his broadcasts on Fox Business Network next month, but he was on Fox News last night talking about Pres. Barack Obama.
It was a previously unaired portion of an interview Sean Hannity conducted with Imus and his wife Deirdre last month. And Imus still seems a bit bitter about something that happened more than two years ago.
In April 2007, after Imus' "nappy-headed hos" comment, then Senator Barack Obama was the first presidential contender to call for Imus' firing. "I would also say that there's nobody on my staff who would still be working for me if they made a comment like that about anybody of any ethnic group," said Obama at the time.
It appears Imus still has hard feelings over those comments. "My own personal experience with him, and I thought he was a hypocrite and a phony," he said in the FNC interview that aired last night.
But he had some harsher words for "Plugs" – or VP Joe Biden. "He's a moron," said Imus. "Joe Biden has said a lot worse things."
Still Imus had mixed feelings about the Obama presidency so far. "It's refreshing to have somebody who can go around the world and people aren't throwing shoes at him like they were your guy," he said, referring to Hannity's guy former Pres. George W. Bush. But also: "I think it's business as usual. He's appointed too many questionable people."
He also objected to some of Obama's decisions from the left, including sending more troops to Afghanistan.
Although he will be on the business network, Imus' radio show often drifts into political territory. It will be interesting to see how his mixed feelings for the President become part of his daily program. And whether his audience agrees with his blunt statements.
Here's part of the interview:


Have a tip we should know? tips@mediaite.com