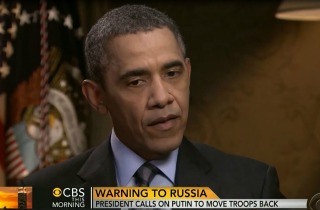 On Friday, President Barack Obama spoke with CBS News reporter Scott Pelley about the unsettling reports of a buildup of Russian troops on the Ukrainian border which some have speculated could be used in a broader invasion of the country. He said that Russia's conflict with Ukraine and the West is a result of Russian President Vladimir Putin "misreading" Western interests and intentions.
Obama said that Russian forces are amassed along the Ukrainian border "under the guise of military exercises."
"It may simply be an effort to intimidate Ukraine, or it may be that they have additional plans," the president continued.
Asked by Pelly if Putin could be trusted, Obama said that Putin has been transparent through the course of this crisis.
"I think he's been willing to show a deeply held grievance about what he considers to be the loss of the Soviet Union," Obama submitted. "You would have thought that, after a couple of decades, that there'd be an awareness on the part of any Russian leader that the path forward is not to revert back to the kinds of practices that, you know, were so prevalent during the Cold War."
RELATED: Obama: Romney Is Still Wrong About Russia
Obama added that he thinks Putin believes the West has "taken advantage" of post-Soviet Russia. "He wants to, in some fashion, make up for that," he continued.
"He may be entirely misreading the West," Obama continued. "He's certainly misreading American foreign policy. We have no interest in circling Russia and we have no interest in Ukraine beyond letting Ukrainian people make their own decisions about their own lives."
Obama acknowledged that Moscow has interests in Ukraine and those interests should be maintained. "There's a difference between that and sending in troops, and because you're bigger and stronger, taking a piece of the country," Obama concluded.
Pelley concluded by noting that there is some concern that NATO is a "hollowed out force" and that Europe has a fraction of the defenses available to it that it did in before the fall of the Berlin Wall.
Watch teh clip below via CBS News:
[Photo via screen grab ]
— —
> >Follow Noah Rothman (@NoahCRothman) on Twitter
Have a tip we should know? tips@mediaite.com