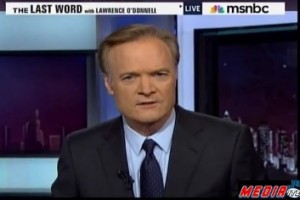 Amid the many reports of American journalists getting detained, threatened and even beaten while covering the Egyptian uprising, conservative talk radio host Rush Limbaugh rhetorically asked "how are we supposed to feel?" What followed was remarkably unseemly display of disregard for reporters who have put themselves in danger. Was he kidding? This was the question posed by Last Word's Lawrence O'Donnell, who added that you never really know with Rush, who later changed his tune. What changed his mind?
O'Donnell opened the segment by stating "right wing media, usually so sure on where they stand on the major issues of the day, has been struggling to find its take on the unfolding events in Egypt." He then followed by showing the pretty damning clip of Limbaugh making light of the perilous situation of American journalists (notably, reporters for the NY Times were cited.) O'Donnell answered the question of "was he joking?" by airing a clip of Limbaugh clarifying that "we were kidding before with the NY Times reporters…"
What happened that gave Limbaugh pause, encouraging him to change his tone over the detained and beaten American journalists in Egypt? O'Donnell suggests it was the Mediaite report that Fox News journalist had also been detained, beaten and blindfolded that caused the conversion of Rush. A very cynical take to be sure, but by all measures, a healthy does of cynicism is required when trying to deconstruct the words of Mr. Limbaugh.
Watch the clip courtesy of MSNBC below:
Have a tip we should know? tips@mediaite.com