On O'Reilly, Glenn Beck Slams Obama's Appeal To Black Voters: Why Should They Have His Back?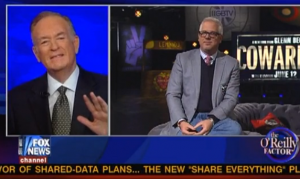 Glenn Beck paid a visit to his former Fox News colleague Bill O'Reilly on Tuesday to discuss all things Barack Obama. Specifically, the recent radio ad aimed at black voters, in which the background singers sing, "We've got your back." Beck asked, should he be the one who has our backs?
Obama's the guy who is supposed to be watching over our liberty and our lives, Beck said — and "he's not doing either." He asked, "Why do we have his back?" Or, for that matter, any politician's back. O'Reilly remarked that they like him, so they do.
"A real leader doesn't snare you in and say, 'Depend on me, depend on me,'" Beck said. Well, O'Reilly noted, "that's the difference between you and me and Barack Obama." Just say it, Beck urged, just say "the m-word." Egging him on, he pressed, "He's a Marxist, say it."
O'Reilly disagreed, offering his own perspective of the president: "I think he's a dedicated, liberal man, who wants the government to call the shots … I don't think he wants to seize your mansion." Au contraire, Beck said Obama would be "thrilled" to put salary caps on them both — another point O'Reilly didn't go along with.
The Fox host wouldn't go that far, but conceded that perhaps Obama is a statist, but more accurately, he would deem him to be "the most liberal president ever to hold office."
Beck further critiqued Obama's campaign method, noting "he'll say the keywords to each particular group," telling voters what they want to hear in order to get elected. What we need, he said (à la Horton the elephant), is politicians who say what they mean and mean what they say.
Take a look, via Fox News:

Have a tip we should know? tips@mediaite.com