O'Reilly Defends Celebrity Activists Against Guest Claiming They Are Helping Bin Laden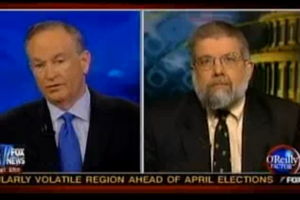 Bill O'Reilly is not exactly the biggest ally A-list do-gooders like George Clooney and Angelina Jolie can count on to support their work abroad. But while usually skeptical, O'Reilly found himself defending their cause in the Darfur region of Sudan as his guest, former CIA intelligence officer Michael Scheuer, accused them of helping Osama Bin Laden's cause.
At the root of the problem lay the identity of the people of Sudan, a country in which years of religious tension have torn the country apart, to the point where many celebrity activists are backing the creation of a new, Christian country in the south of Sudan, in addition to US intervention to stop the atrocities against Christians in the Darfur region of Sudan. For O'Reilly, it was difficult to see the problem with celebrity intervention if it was helping shed light on a major global issue for the better. But to Scheuer, creating a new Christian state out of Muslim land was precisely the kind of intervention that fueled Bin Laden's propaganda. Bin Laden, he argued, "has predicted that the United States will always step in and take land from the Islamic  world, especially if that land has any potential for producing oil." Unfortunately, the southern half of Sudan hosts most of its oil reserves.
Still, O'Reilly saw the creation of a country "where [Darfur] refugees could go" as a positive thing, as it would diffuse tension by dividing the opposing factions. Scheuer saw this as instigation to push Darfur itself to be a nation, it being a western territory that would not be involved in the initial division, and used other examples of American intervention– notably the creation of East Timor and the power of Shia Muslims in Iraq– as examples of acts that have led to increased hostility from Al Qaeda.
"So, do we stand on the sidelines?" asked O'Reilly in response, suggesting that the alternative to shedding light on the problems in Sudan was keeping silent and, as such, becoming accomplices to the atrocities. Scheuer saw no problem with that. "We absolutely stand on the sidelines," he replied, taking a detour to point out abortion as a similar atrocity that celebrities "support." O'Reilly, eyebrow raised, replied dryly, "you're talking about abortion," and later noted that he saw the situation differently.
It may not be a first, but it is certainly rare to see Bill O'Reilly, longtime nemesis to more liberal celebrities like George Clooney, take up his side– more fodder for those that have begun to see O'Reilly, in his role as Fox News elder stateman, as the network's moderate voice of commentary. The debate from last night's program below:

Have a tip we should know? tips@mediaite.com