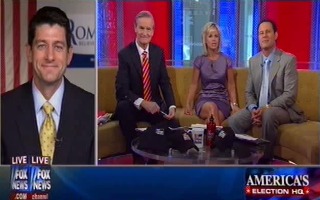 Wisconsin Republican Rep. Paul Ryan appeared on Fox & Friends on Wednesday where he weighed in on the state of the presidential race and fact-checked some of the claims made by President Barack Obama on the campaign trail. He said that the fact that Romney is tied with the President at this point in the race is, in his opinion, "pretty amazing."

Co-host Gretchen Carlson played a clip of President Obama chastising the Republicans for their views on how to get the economy growing again. "When Governor Romney or the Republicans who control the House of Representatives propose cutting taxes for folks who don't need them while raising them on 18 million working families – that's not a recipe for economic growth," said Obama at a Maryland fundraiser on June 12.
"He's telling you that you don't know what you're doing," Carlson told Ryan.
"Only in President Obama's Washington is a disagreement to raise taxes considered a tax cut," Ryan responded. Ryan said that Obama is doing nothing to prevent the largest tax increase in American history that will occur on January 1, 2013 and then asks why there are no jobs being created.
Co-host Brian Kilmeade asked Ryan to respond to the notion that Obama is now getting blame for deficits that he had no part in creating.
"He increased base discretionary spending, government agency budgets, by 24 percent," said Ryan. "And then he increased it 84 percent with the stimulus spending and he kept those elevated levels in base spending."
Ryan said that Obama has presided over the largest increase in government spending since the Second World War. "He's given us four budgets with four trillion dollar deficits in them. That's not President Bush's fault," Ryan continued.
Co-host Steve Doocy asked Ryan to weigh in on the Carville-Greenberg report that identified a lack of receptivity to Obama's message among independent voters in Ohio and Pennsylvania as well as a recently released Federal Reserve Bank report that showed American's net worth has dropped to levels not seen since 1992.
"If borrowing and spending and taxing money in Washington were the secrets to economic growth, we'd be entering a golden age. Greece would be on fire in growth. It's not," said Ryan. "These ideas don't work. They've proven to fail over and over again."
Carlson asked Ryan to weigh in on the polls that show Romney and Obama tied, and asked why — if he is correct – the American people have not dropped their support for the President.
"I think that's pretty good," said Ryan. He said that being tied with an incumbent President who is well funded is "pretty amazing." He also said that the recall election in Wisconsin that showed voters are uncomfortable with the track that Washington is on.
Kilmeade asked Ryan if he thinks Romney has a plan for the economy. "He's been specific about spending cuts, about entitlement reforms, about cleaning up this tax code, about getting rid of the job-killing red tape, repealing Obamacare, having an energy policy – he's been extremely specific about these things," said Ryan.
Watch the segment below via Fox News Channel:
Follow Noah Rothman on Twitter
Have a tip we should know? tips@mediaite.com