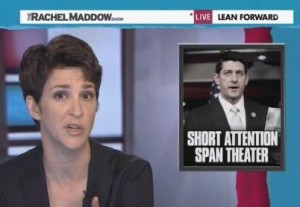 Rachel Maddow tonight took on current congressman and former Republican vice presidential candidate Paul Ryan for releasing a budget proposal very similar to the one he touted on the campaign trail last year. What Maddow found so surprising about the plan was that it meant Ryan has basically rejected the idea that elections have consequences and not acknowledging that his budget plan was rejected by the American electorate already.
Maddow brought viewers on a brief trip down memory lane, when questions started being raised about Mitt Romney's tax returns and the Republican party wanted to shift the discussion to the flailing economy. At the time, before he became the VP nominee, Ryan said in a TV interview that the American people will get a choice in the November election to back the Republican budget plan or the Democratic plan.
RELATED: Obama Rejects Ryan's Budget, Says 'My Goal Is Not To Chase A Balanced Budget Just For The Sake Of Balance'
And, even as they were "effectively running over Mr. Ryan's budget," as Maddow put it, the GOP's plan was rejected. But now, Maddow noticed, Ryan has gone back to proposing basically the same plan only with a few changes. Maddow said that Ryan's plan still comes with giant tax cuts for the rich and lacks a concrete plan for making up for trillions in lost revenue.
Needless to say, Maddow said proposing the same deal that voters rejected "seems like a weird day" to deal with last year's big defeat.
"Republicans have seen how this movie ends. Really, really recently. They have responded by casting themselves in the sequel."
Watch the video below, courtesy of MSNBC:
—–
Follow Josh Feldman on Twitter: @feldmaniac
Have a tip we should know? tips@mediaite.com
Josh Feldman - Senior Editor