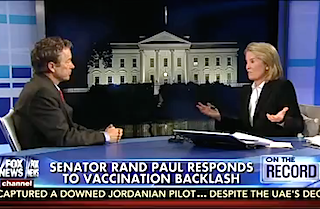 Ever since he first said he believes most vaccinations should be "voluntary" and suggested that some might be related to "mental disorders" earlier this week, Sen. Rand Paul (R-KY) has been working to clarify what exactly he meant.
That effort continued Wednesday evening on Fox News' On the Record with Greta Van Susteren, where Paul said he position on vaccines is not any different from President Barack Obama's.
"I got annoyed that people were trying to depict me as someone who doesn't think vaccines were a good idea," Paul said, noting that he gets vaccines and so do his children. "I think everyone should be encouraged to get vaccines," he added, insisting that the media is mischaracterizing his stance. "I'm not sure i'm different than the president or anybody else on the position."
RELATED: Did Obama Actually Link Vaccines to Autism?
While he thinks there should be "rules" about vaccinations, Paul said, "I don't think anybody is recommending that we hold them down." He described the laws that many states have that make sure students are vaccinated before attending school as "more of an encouragement" than a "mandate."
"For the most part you need the vast majority of people to take vaccine that's how you get immunity for everyone," Paul added.
Of course, it is the "religious and philosophical exemptions" that Paul mentioned in his interview that has allowed a disease like measles, which was thought to be eradicated 15 years ago, to spread once again this winter.
Watch video below, via Fox News:
[Photo via screengrab]
— —
>> Follow Matt Wilstein (@TheMattWilstein) on Twitter
Have a tip we should know? tips@mediaite.com