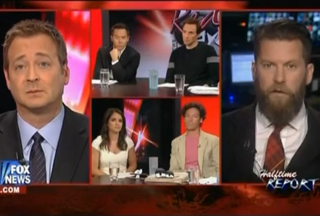 President Obama's immigration executive order yesterday was the source of most cables new talk of the day, and Red Eye this morning was no exception, with the panel debating both the policy itself and the method the President chose to implement it. While the theories for how this would affect America's immigration problem varied from a random whiteboard Eric Bolling left lying around to a naked ploy to boost tickets to Carlos Mencia shows.

RELATED: Red Eye Asks If Obama Has Lost 'Obama Girl', Has He Lost The Nation?
Host Andy Levy went around the table soliciting ideas, beginning with panelist (!) Greg Gutfeld famed British actor Victor Roberts, who responded with a graph on welfare reform he took from Eric Bolling ("maybe I could just show it"). On that note, Paul Mecurio responded that he could see another reason for this immigration shake-up besides the discrepancy in the numbers of the graph Roberts found laying around– a plot "to keep Carlos Mencia's audience." Diane Macedo had a serious take, however, wondering why it was so difficult for Republicans and Democrats to compromise and pass both comprehensive immigration reform and border security measures.
Levy jumped in to note that the executive order would only protect children brought here against their own will, "so the parents can be deported," which led to the question: "Why does Obama hate families?" The panel mostly agreed that those who are in the military and are willing to die for America shoul be allowed to stay, as well as upstanding citizens who work hard and contribute to society. Bill Schulz, on his end, thought it was both a political thing to do and a correct one, and objected to "babies being used as anchors," in part because "babies float."
The halftime report got a bit more contentious, however, as ombudsman Gavin McInnes argued the easy solution was to "tweak it a bit and make it a little harder for employers," so the incentive to come to America is shut off from the source. Levy countered that the people in question here were children, and that he had "mixed feelings" about it precisely because an executive order was the source of the law, and turning people away from America was "not the principle this country is founded on," citing the Statue of Liberty.
Watch the segment (and accompanying Halftime Report below it) via Fox News below:

—–
»
Follow Frances Martel on Twitter
Have a tip we should know? [email protected]