Red Eye Panel Gets Heated Over Whether Feds Jailed Anti-Muslim Filmmaker As 'Scapegoat' For Benghazi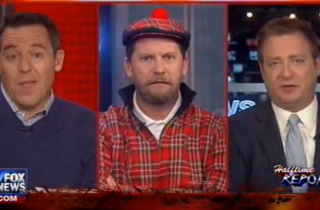 On this morning's edition of Red Eye, Gavin — err, "Jimmy" — McInnes and host Greg Gutfeld got into a heated battle with resident ombudsman Andy Levy over whether the filmmaker behind Innocence of Muslims was recently jailed because of the parole charges levied against him… or because the federal government wanted to punish him for making the anti-Islam movie.
After Levy and panelist Jedediah Bila agreed that the controversial filmmaker "deserves" to be in jail because of his parole violations, Gutfeld and McInnes interrupted: "That's not why he was arrested and we know that."
"I don't understand why law-and-order conservatives like you and Jimmy have a problem with this," Levy shot back.
"Andy, I can't believe you," McInnes responded. "You honestly think this guy should be in jail? You don't think it was because of the movie?"
Levy replied: "I think it's about the movie only because the movie made him a public figure and then they were like, 'Oh, he's violating his parole.'"
McInnes got agitated and replied: "I swear everyone in this studio, you could go through their files and find something and throw them in jail, and then we could all be sanctimonious and say, 'Well, he didn't pay taxes in 1992.'"
"This isn't a guy who committed victimless crimes," responded Levy. "He committed bank fraud. He defrauded people of money. These are not victimless crimes."
Gutfeld then said that the filmmaker's arrest "was a cover for an incompetent administration" in the wake of the September 11th attacks on a U.S. consulate in Benghazi, Libya. "They had him arrested as a scapegoat," he added.
The three then went back-and-forth for another few minutes, discussing whether the movie could even be considered art… and whether he would have been arrested so swiftly if his movie had mocked Christianity as opposed to one of the "cool" religions like Islam.
Watch the battle below, via Fox News:

— —
>>
Follow Andrew Kirell (@AndrewKirell) on Twitter
Have a tip we should know? tips@mediaite.com